Welcome to the fifteenth episode of our collector snapshot, where a vintage collector answers 10 short questions. The same questions will be given to every collector appearing in this segment.
Up this episode is 45 year old collector Gary Haygood (aka "mrUTman" on Rebelscum), who works in the information technology field in Surprise, Arizona. Anyone who has crossed paths with Gary on the forums or on Facebook knows him to be one of the warmest and friendliest collectors out there. He is also extremely community conscious and is very knowledgeable about the vintage collectibles we all love so much. I hung out quite a bit with Gary and his lovely wife Tara at Celebration Anaheim and know them to be as friendly in real life as they are in the cyber-world.
Gary and Tara are also involved in charity work for breast cancer research and they run online events which they call "Buns 4 Boobs." For 20 dollars (which they donate to charity) they will restore the hair (into beautiful buns) of vintage 12 inch Princess Leias. Great idea for a noble cause! I was lucky enough to snag one of their "Buns 4 Boob" pins at C7.
VSWC: The artwork for these great pins.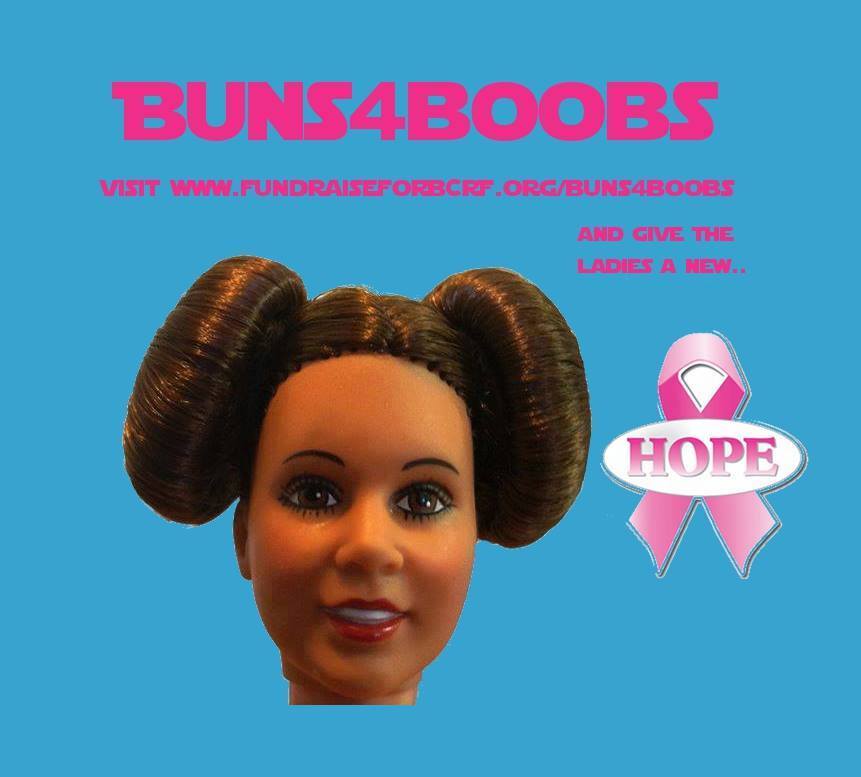 VSWC: Some examples of their restored Leia buns.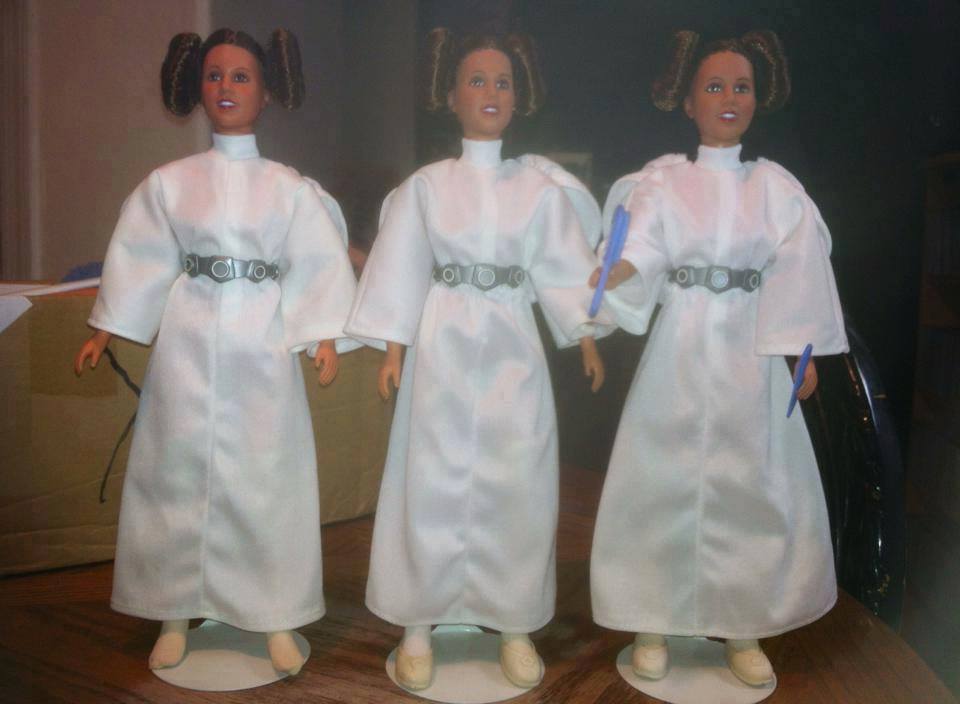 If you are on Facebook, why not check out the great group that Gary helps admin – Batteries Not Included – Star Wars Collectors Group Inc. It's an easygoing group set up to discuss both vintage and modern Star Wars collectibles and the community they have built there is a credit to the admins and their members.
Gary also runs a great Facebook page – Vintage Star Wars Collectors Recommended Groups. This page provides a list of SW collecting groups that "support collecting with passion and respect." Great job Gary!
Now to the questions!
1. How long have you been collecting?

As long as I can remember I've been collecting various Star Wars Items. However I have been "seriously" collecting for about 11 years or so, when I found the community on rebelscum.com
2. What do you collect?
My first love is Star Wars toys and art, I focus on Princess Leia items, I also collect other toys from pop culture I grew up on (i.e. Megos, Monsters, and Evel…)
VSWC: Gary and some of his great collection. Great t-shirt! I hope Gary didn't blow his knee out crouching down like that. We're not so young anymore us vintage SW collectors…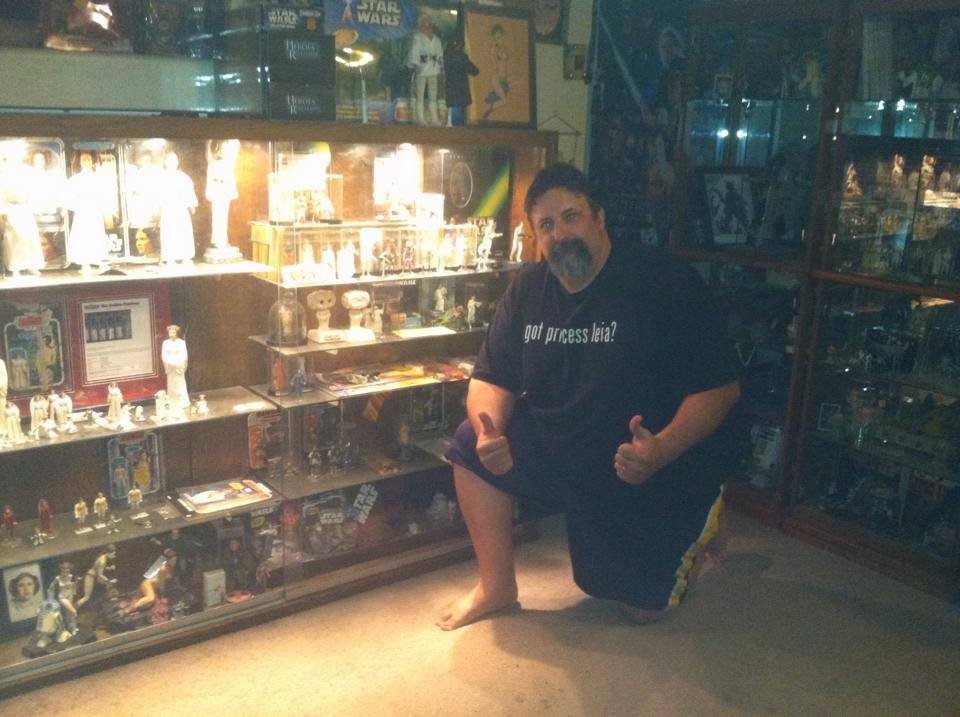 VSWC: And the pride of Gary's collection – a Gentle Giant life size Leia monument.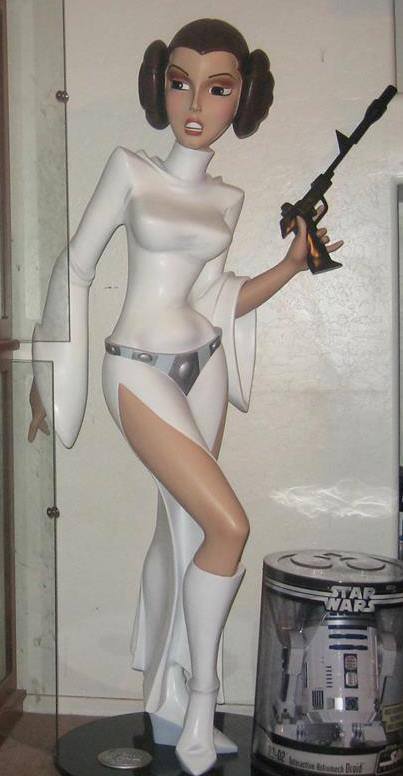 3. Whats your Grail?
The necklace worn by Princess Leia in the ceremony scene of "A New Hope."

4. What collectors inspire you?

Folks that share knowledge and help others out for me this is the way we sustain the hobby. Mike Scards22 is someone I look to as a mentor and really helped me with learning the ropes and meeting everyone back in the forum days. I also credit my education to reading post by folks like John Alvarez, Joseph Yglesias and Bill McBride as well as many others over the years.
VSWC: See our full-length interviews with Joe and Bill here:
http://vintagestarwarscollectors.com/collector-interview-6-joe-yglesias-bootleg-overlord/
http://vintagestarwarscollectors.com/collector-interview-2-bill-mcbride-dark-lord-of-the-sith/

5. What's your most embarrassing moment as a collector?
Realizing how much I enjoy being friends with 'Tiefighterboy' (Todd Osborn) 🙂
6. What's your favourite Star Wars film?

Return of The Jedi, I love the redemption of Vader and it always has been my favourite part of the films.

7. What would you change about the collecting community?

I think we all could be a little easier on the newbies to the community, and the newbies should be more receptive to the knowledge they can receive from listening to the old timers. 

8. Forums or Facebook groups?

Forums will always be great but I think Facebook has opened a whole new world to collectors and mixed together several great forum communities.

9. What Star Wars character do you most resemble?

Who else Princess Leia 😉
VSWC: The resemblance is uncanny!
10. Is there one thing collectors may not know about you?
I was in personal security in my younger years and was a bouncer and bodyguard before I settled down as an IT Guy 🙂

VSWC: Thanks so much for joining us Gary! It has been great getting to know a bit more about you and your collecting habits. See you on the forums and Facebook!