Here it is guys. I haven't been able to sit still since Steve and Skye agreed to be interviewed as I'm a huge fan of their podcast – The Star Wars Collectors Archive Podcast (aka The Chive Cast).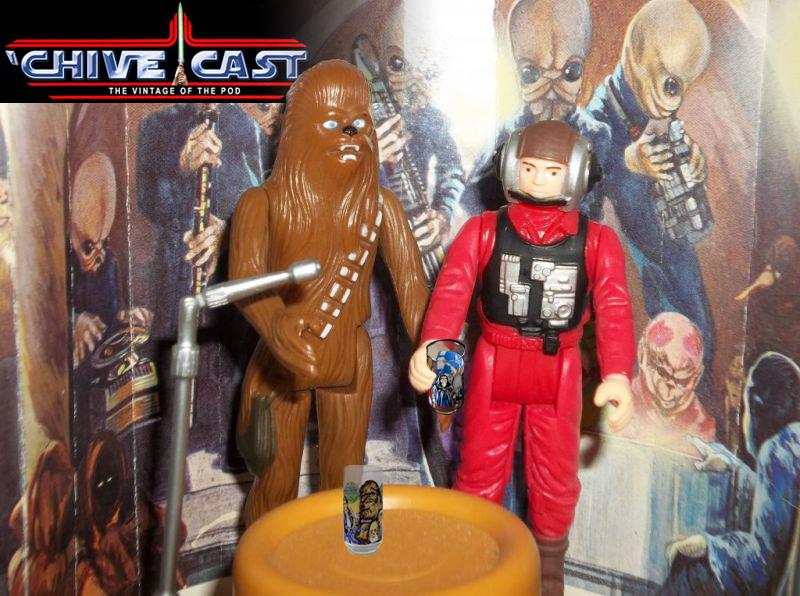 If you've never listened to the podcast, you can download it on iTunes or from the website itself at:
http://theswca.com/podcast/
If you like what you see (and what you hear!) you might also like to sign up to their great Facebook page:
https://www.facebook.com/pages/The-Chive-Cast-Vintage-Pod/147829468615780
The CHIVE Cast was actually the first podcast I ever listened to and thank god I did because I now know so much more about hobby than I did before I was a loyal listener. Not only that but it's great to hear some of the stories about collecting in the early days and to learn more about some of the collectors that have done so much for vintage collecting.
Here's a pic of Skye and Steve (left to right):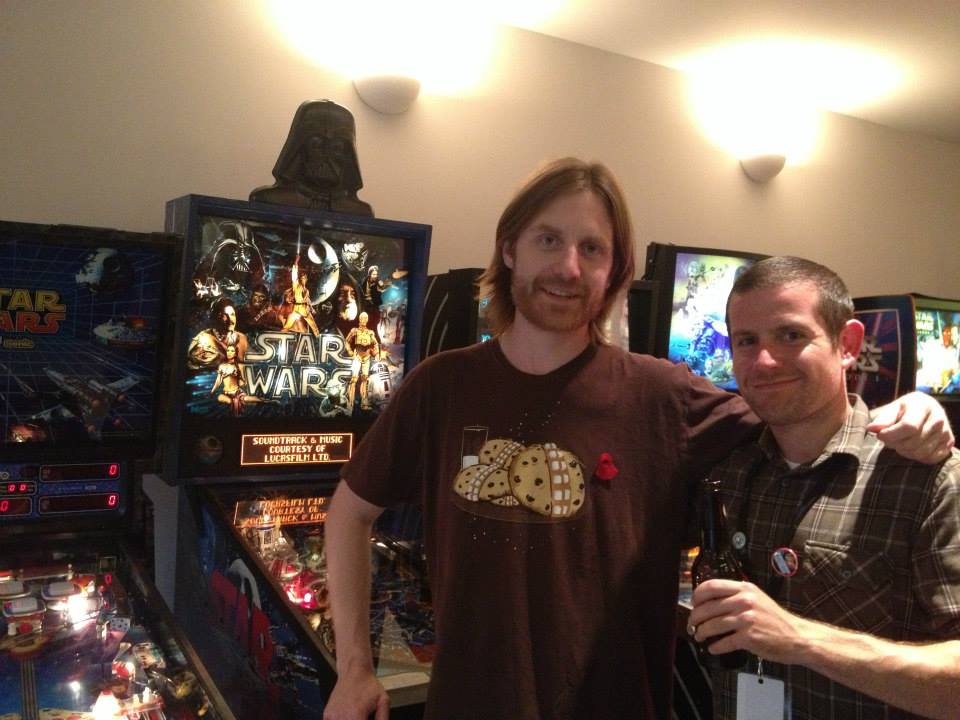 Let's see what the duo have to say:
Hi Steve and Skye, firstly thanks so much for agreeing to this interview. I'm stoked to have you both on the blog because, as you know, I'm a huge fan of the show you put together every month and until recently it was the only podcast of its kind. I've mentioned to you before that I actually once listened to the show for seven hours straight after my train was delayed (the train in front of us hit a car and then our train actually hit a pony – which the train driver kindly translated into English as a 'little horse') on my way back to The Hague from Brussels. Although you guys saved my sanity that night, I also had the misfortune of having the 'market watch' drop stuck in my head for a week.
One great thing about the podcast is that it is FREE and you guys really do it out of a great love for the hobby.
So to the interview.
1.    My first and undoubtedly most important question is for Steve – what does the 'B' in Stephen B Danley stand for?
SD – I'm not sure how rampant the speculation is out there, but I share my middle name with my grandfather, Johann Bragi Freymodsson (pronounced B-rye-ee), who was a full-blood Icelander with an aptitude for eloquent speeches. It turns out that Bragi was the god of poetry in Norse mythology, so the name is much more fitting for my grandpa, (and my co-host with his Skye-kus, for that matter) than myself, but I'm honored to have it.
2.    Before I ask you guys about the show, I'd like to learn a little bit about you both. I know that you Steve are currently living in Los Angeles and that Skye you are in New York, but where did you guys actually grow up?
SD – I grew up in the southern California suburb of Goleta, where I lived all the way through my undergrad years at UC Santa Barbara, which is actually where Skye and I met when he was working on his PhD. Luckily it's only about 100 miles away from L.A. so I try to make my way there as often as I can.
SP – I grew up in the suburb of Boston known as Belmont.  It was voted the most boring town in Massachusetts by the Boston Globe, but I enjoyed it.
3.    What was it like growing up in those areas?
SD – Goleta was and still is a very mellow town and a great place to be a kid. My childhood home was up the street from our elementary school and most of my friends were within a couple blocks, though none were nearly as interested in Star Wars as my younger brother and I. We were okay with it, as it meant we had toys that none of the other kids did!
SP – It was a fairly idyllic and typical rich suburb.  My parents were strange enough and my family is eccentric enough that I always kind of felt like an outsider, but looking back, I just realize that we were just a bit strange.
VSWC: So Skye did you and Steve actually meet at university or was it through the Star Wars connection?
SP – A bit of both. Steve used to post under a fake name for some reason and he hardly ever posted. I saw that he was in Santa Barbara, but didn't think much of it. Then Broc, who I knew fairly well through the hobby, told me about this Steve guy who really was awesome.  I emailed him, but then I got freaked out that he was an undergrad and I was a graduate student. I don't really know why, but it seemed like we couldn't be friends.  I finally got over it and he came over one day and we talked about baseball for about 2 hours and a friendship was born.
VSWC: Another pic of the duo, this time with Steve's good looking dog Digby, who you may often hear in the background of their podcasts.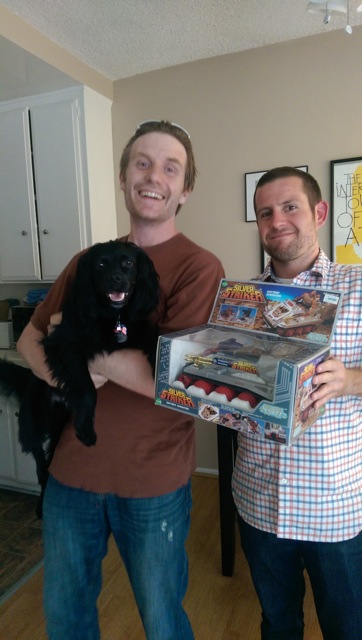 4.    Steve up until recently you worked for at a script archive, where you had access to original Star Wars film scripts. I can't imagine how cool this would be for a massive Star Wars fan like yourself. You've mentioned on the podcast that there were some big differences between the original script and what actually made it onto the screen. Can you give our readers some examples?
SD – While completing my masters, I was an archival studies graduate fellow at the Writers Guild Foundation Library & Archive in Los Angeles, which is the only screenwriting-focused library in the world and an awesome place to work as a fan of any film or television series. They've got an incredible collection of scripts (including several representing the Original Trilogy),but by far my favorite item is the one and only publicly available copy of Lawrence Kasdan's revised draft for The Empire Strikes Back. He brought in his hand-written original to be copied for the archive and it is full of fascinating gems for avid fans. At that point in the script's development, the basic story of Empire was all there, but a good portion of the dialogue was quite different. One of the best things I stumbled upon was a handwritten list of different insult combinations for Han to call Chewbacca. Who knew that "giant overcoat" and "overgrown fur tree" would lead to the classic "Laugh it up, fuzz ball!"? "Flipping the Script" is always a fun bit to come up with for the podcast.
5.    That's fantastic! I'd love to get more hands onto those scripts. Where are you working these days?
SD – I'm currently a cataloger at the Academy Film Archive, particularly focused with tracking incoming acquisitions and describing collections as they are physically processed by our archivists. It involves a lot of research and problem-solving when trying to identify obscure titles and individuals, or putting together the pieces of a complicated group of elements (be they on film, videotape, or digital files). It's a fun job in the sense that I'm exposed to so many different films and filmmakers that I would never have come across otherwise. I'll admit that the first thing I searched our database for was the Academy's holdings of Star Wars film prints, and I was thrilled to discover that we have a few from back in the day
VSWC: What a great job you have! When I told my wife, a massive film buff, about your line of work, she literally said "He must be so happy to wake up every morning and go to work!" Is that how you feel?
SD –I'm extremely grateful to have a job in a field where there just aren't that many. It took some persistence and patience, but eventually things worked out in the best way possible. It's guaranteed that I'll come across or learn something new every day when I come in, and that's the best thing anyone could ask for when it comes to work (especially a movie nerd like myself). 
6.       And Skye you are a professor of French? What's that like? How did you get into that?
SP –  Its great, though there is a lot of difficulty convincing Americans that there is any utility in speaking another language. Somehow speaking to hundreds of millions of people is seen as less valuable a skill than taking Sociology.
7.       What are your favourite cities in France and what do you like about France? I'm actually half-french myself – out of Marseille. Have you ever been down there?
SP – I actually used to live in Marseille. You can go on Rue Sainte and see my old apartment with my misspelled name still on the door "Paime."   I lived there before the light times…before the TGV and I hardly recognized the place when I went back a few years ago. Everything was too nice.
Still, it is my favorite city in France.  I actually really committed to learning French after hearing the Marseillais rap group IAM and their Star Wars song. That led me to do an honors thesis on them, which in turn made me choose Marseille as a city to live in when I got a Fullbright to teach in France.
I teach the "Allez l'OM" chant to all of my beginner French students.  Advanced students will learn some of the other chants that are directed at Paris.
VSWC: Wow that's cool Skye! I used to live about five minutes from Rue Sainte and my family (well my French side at least) are still there. It's pretty rare to hear of anyone visiting down there let alone living there. Tourists usually just pass the area on their way to the Cote d'Azur…. It is a lot cleaner these days but unfortunately it still has a long way to go before it sorts out its crime problem. IAM is awesome too and don't start me on l'OM (the local football team)! 
Readers this is the IAM SW song that Skye mentions:
8.       So back to you Steve, I'm not sure if I found any non-Star Wars-related links for you on the internet. I did though find a basketballer, a doctor, a blogger, an author and a driver in a hit and run accident that were all named Stephen Danley. Are any of these you?
SD – Ha, while I would love to wear many of those hats (and do to the extent that I've got a semi-decent jumper and still blog for the Writers Guild Foundation from time to time), I don't think I have much of an internet footprint outside of Star Wars collecting.
9.    So what inspired you both to first collect vintage?
SD – I have an older half-brother born in 1975 who passed down a number of his old vintage toys to me at a very young age. As a preschooler in the late 80s, I was obsessed with Return of the Jedi and had but one glorious chance to open my own Star Wars figures from the clearance bin of the toy store, which were all obscure ROTJ and POTF characters. My interest in collecting came about when I was nine, having discovered that figures, vehicles, and playsets I had never seen or knew existed were still available at comic shops in the mid 90s. My younger brother and I decided that we had to have them all, and every single cent we could save would go to completing our loose set together. Though there were brief periods of hiatus, my collecting has continued ever since.
SP – I latched on to Chewie as a character when the new toys came out and decided to focus just collecting him back in the mid-1990s. The vintage thing came about when I realized that you could buy the old toys on the internet about a decade later.  My goal was to get one Chewie card on each movie cardback. And now 10 years later my goal has expanded quite a bit.
10.    Have you guys ever collected anything else?
SD – Contrary to my podcast persona as a "Vintage Purist," I also fully collected the modern line all the way from the Galoob Micro Machines to the later Episode III figures, but realized that vintage was what really meant something to me. I had reached a saturation point (particularly with the prequels, which I truly hate only in execution, not concept), and unloaded all of my modern collection in 2007 to focus solely on vintage. I've never looked back and couldn't be happier!
SP – I collected: baseball cards, with a Carlton Fisk focus and then a Pete Rose focus when I was a kid; pez dispensers, comic books, Grateful Dead and Led Zeppelin bootleg tapes as a teenager; modern Simpsons and Star Wars toys as a young adult. Oh, and I guess I collect my movie and concert stubs. I really needed a focus!  That is why when Star Wars toys came back initially I knew that I needed to just pick one.  I felt like a sidekick in life and so…Chewie.
11.    What are your both into other than Star Wars?
SD – For those listeners who make it to the end of our podcasts… though I'm flat out terrible at fantasy baseball, I am a life-long Dodgers fan and try to make it to as many games every year as possible. Aside from Star Wars, "Dem Bums" are the only other interest that I can say I've had for as long as I can remember. I also quite enjoy hiking and backpacking, movies of all kinds, and beer.
VSWC: Okay as a non-American and non-baseball fan I just had to google 'Dem Bums.' The Dodgers! 
SP – Pretty into movies, music (playing and studying), language, Batman, Formula 1, Baseball, podcasts and eating good food.
12.   Skye it has been said that vintage Star Wars collecting may die out once the 1970s generation passes on. What do you think about this? Is there a sustainable future in Star Wars collecting?
SP – When Lucas sold Star Wars, I think that it made it quite sustainable.  As I said at the time, it took a Wizard of Oz property and transformed it into a Batman property.  As long as there is a powerful avaricious and publically-traded company who will profit off quality Star Wars movies, there will be a Star Wars market.
13.     Steve you are a bit younger than the average vintage Star Wars collector aren't you?  Do you think younger collectors will join us once the Disney films come out?
SD – Having been born in 1985, I'd definitely say I'm part of an odd generation in terms of vintage collecting. Though there certainly weren't many other kids my age into the figures (or the movies) growing up, I soon discovered that I wasn't the only "collector" of my age when I first found the Rebelscum forums and SWCA. In fact, there are quite a few that have been actively participating in the vintage community far longer than I have. In terms of Disney's continuation of the franchise, I could totally see it inspiring a new breed of up-and-coming vintage collectors joining the fold. Star Wars is alive and well, which bodes well for continued appreciation of the vintage toys. They're really where it all started!
14.    Skye you focus on collecting Chewbacca (my wife's favourite character by the way) and Steve I know you are the B-Wing 'King'. What is the current state of your collections?
SD – I would describe my collection as being "stable, not quite stagnant" (in other words, I haven't been adding much for the last few years). It was only a few summers ago that I was able to really put some effort into getting things displayed, so I've been trying to enjoy that as much as I  can. That said, I've recently been able to pick up some really fun and meaningful pieces (some of which I hope to share in the coming months).
VSWC: Check out the photos below of Steve's B-Wing focus and also his childhood B-Wing Pilot and matching POTF coin. 
SP –Having just finished up my divorce, I now know my financial state and I'm "back in the market" for more Chewbacca after an unofficial two-year hiatus. Strangely, the market itself has gone up so much that I have a hard time understanding the prices.  My mind is slowly acclimating to the new economic reality of collecting vintage.
VSWC: Check out Skye's awesome's focus at his website:   http://chewseum.com/vintage/index.htm
15.    Why did you guys choose these particular figures to focus on?
SD – The B-Wing Pilot happened to serve a very important purpose in my childhood – he was my Luke in pilot gear. Thanks to his inability to sell during the line's heyday, I actually ended up with several of them and thus they also served as Luke's Rebel buddies. When it came to deciding on a figure to focus on as a collector, it was a matter of good timing. Focus collecting was beginning to flourish, yet there were still opportunities to acquire some key items before the prototype and preproduction market really went crazy. In that sense, having an affinity for a pretty boring figure from the end of the line has really paid off.
SP – Like I said above, in 1995 the new figures came out and I bought everything.  I was so avid for SW toys that I also bought all of the Bend-Ems because I would have purchased anything.
I basically spent most of my young adult life sitting shotgun in my brother's car and that is why I went with Chewie.  He certainly was not my favorite character as a kid.  That honor belongs to Boba Fett, Salacious Crumb and the Gammorean Guard.
16.    As you've just touched on, the B-Wing Pilot is often referred to as an 'unloved' figure. How much truth is there to this? If so, why do you think this is the case?
SD – For collectors, nameless human characters—especially good guys—with little flare or significance to the movies offer little to be all that excited about as action figures, so I would say that the B-Wing Pilot is certainly 'unloved' to that extent (I don't think they did anything but stand around in the background). The figure itself is also pretty pedestrian compared to a Biker Scout or any of Jabba's cronies. However, such figures give a lot of room for creativity when you're a kid. They can be anybody and do just about anything, and little did I know, the B-Wing Pilot even had his own ship!
17.    Steve do you know of any other collectors out there with a B-Wing Pilot focus?
SD – I know a few others on the forums whom I'd love to meet someday. Though there's only so much one can say about the figure, I'm sure the conversation would take on a life of its own after a few pints.
18.     Skye is it true that you actually look like Chewbacca? I've heard that you become what you collect. I do look a little bit like my focus – Luke Skywalker, although some say I resemble Leia more.
SP – I used to!  I have cut my hair and stopped growing my beard.  It turns out that your beard turns white around 35 years old, which is lame.  200 years later and not a touch of grey in old Chewie.  Yet, Itchy is totally grey.  Wonder when that happens.  Maybe Episode 7 will help.
19.    Steve in what ways do you guys interact with others in the collecting community?
SD – Though I'm not on them nearly as much as I used to be, I still pop in to the Rebelscum forums from time to time. I also follow a number of vintage-focused Facebook groups. In addition to working on the podcast, I've been organizing get-togethers for the California Vintage Star Wars Collectors Club (CAVSWCC – cavswcc.blogspot.com) for a few years now.
VSWC: Steve can you tell us more about the collectors club? What does an average meeting consist of?
SD – The club was started by Skye back in 2008 as a way for vintage collectors from all over California to keep in touch and get together a few times a year. The "meetings" are usually nothing more than informal hangouts hosted by one of the members which involve some good food, beer, a little "swap meet" and general hobby talk. While most get-togethers are small, we've been able to get a sizeable group up to Petaluma to tour Rancho Obi-Wan, which was an absolute blast and a trip I'd like to organize again in the future. We don't get together nearly as often as I would like, but I'm hoping to keep it going for as long as people are interested.
VSWC: Really sounds like fun. We're thinking of starting up a Benelux one soon. I might need to get some pointers off you later. So is anyone welcome to join? How do they find out about meeting dates and location?
SD – Absolutely. Send me an email at cavswcc@gmail.com to be added to the group's mailing list, which is the primary source of meeting planning information (including dates and locations).
20.    So finally to the podcast itself. Skye how long have you guys been doing it?
SP – Four years, we turn five next February.
21.    What made you want to start it up?
SP –  I just listen to podcasts all day every day.  I realized that I would want to listen to a vintage themed podcast and so I figured that I would start one. Serendipitous geography brought Steve to the show and the 'Chive Cast' was born.
22.    Steve can you give us a brief summary of what you guys do on the podcast? How do you prepare for it?
I tend to start compiling notes for the show a few weeks before we're likely to record and send those to Skye for him to review and add his own. I do my best to jot down news items as they come up, though oftentimes it involves a bit of backtracking. Meanwhile, our trusty Market Watch correspondents (Brisbane Mike and Fratastic Pete) dutifully accumulate information for that segment and send us their findings, which can only be deservingly appreciated by visiting their fantastic website (chivecastmarketwatch.wordpress.com). One of us will reach out to a guest, sometimes not until a few hours before recording time depending on the topic and their availability. Skye usually sends me the final rough outline a few minutes before we connect on Skype and we typically get right into it from there. This has a lot to do with the (hopefully) informal and conversational feeling of the show, as we're literally having a series of exchanges that we would have regardless of whether the microphones were on. Our sessions usually run about two to three hours depending on the episode. Following a good night's sleep, I'll gather images for the enhanced podcast (which Skye always adds to with hilarious effect) and send them along to him as he begins the editing process, which is far more laborious than the pre-production work and something that Skye can better attest to. From there, I become a listener just like everyone else.
VSWC: Well it definitely does come across as quite informal and doesn't sound scripted at all. There's no way anyone can script some of the things Skye comes out with!  It sounds like tough work. How do you both find the time?
SD – The podcast undeniably involves the most time of any aspect of the hobby for me, but it forces me to remain connected on a regular basis. I would love to do a weekly show that was shorter or more focused, but it's incredibly tough to find a night for all of the pieces to align and that the insanity of daily life can allow.
SP –I don't really know the answer to that. Basically about two days a week I block out serious time to edit the show in my free time.  I consider it "hobby time."
23.    So what are your favourite segments?
SD – "Nugget from the Archive" and "Unloved Item" are the Yin and Yang of vintage Star Wars collectibles for me, and are always my favorite segments to research. They represent the best of both ends of the collecting spectrum. I love talking about things like acetate figure sculpts just as much as I do about Darth Vader pop-up combs.
SP – Probably the Nugget. That was the other origin of the show. Before I started the podcast I would post "Nuggets from the Archive" on Rebelscum but very few people responded. So, the show is continuing that spirit. There is SO much to learn from that site.
24. Skye I've heard you try the Australian accent a few times on the show. It sounds to me like a cross between a constipated Steve Irwin and a mentally challenged Oliver Twist. Have you actually ever met an Australian?
SP – Sure I have.  Lets see, there is Mark Salotti.  And….uh…that is it.    To be fair, I love Nick Cave, Jim Jeffries and Wolf Creek.
25.    Ha well that's not bad! So what do think will happen now that the SWFUK podcast is well and truly off the ground? Up until now you guys have been the only podcast that strictly focusses on vintage Star Wars. Do you welcome the competition?
SP – I got unreasonably angry with their initial attack on us on their forum, but I have cooled off since then. I definitely welcome the competition.  I have listened to their shows and I like them. I particularly like Grant's oddball section because that delivers the kind of minutiae that they accuse us of not delivering.
VSWC: Readers if you don't know what the SWFUK podcast is, please check our review here.
http://vintagestarwarscollectors.com/review-swfuk-podcast/
26.    So how long do you guys think you can continue the podcast? Are there are a finite amount of interesting topics to chat about?
SP – No, there is not a finite amount of topics to chat about. I think that we can go on indefinitely.
SD – The "figure of the month" formula has been working for some time, and will likely serve as the backbone of the show for as many figures as there are (for me personally, the more obscure the figure the better!), but there is so much more to highlight beyond the Kenner toy line. We try and infuse as much of those niche areas as we can, and I'm sure this will increase as we continue to check figures off from the podcast's "cardback."
27.    Steve how is it working with Skye? He seems have unstoppable energy and says exactly what is on his mind, sometimes going off on some pretty wild tangents. You on the other hand seem to be quite measured in what you say and Skye openly admits that you keep him in check. Do you intentionally play this 'straight man' role or is this how it is evolved naturally between you two?
SD – Skye keeps me on my toes, that's for sure. As for keeping him in check, I'm not sure that's completely possible! I never quite know what direction a discussion will take, and it shows by how much I end up laughing throughout the podcast. I would say I naturally fell into the "straight man" role, and it seemed to really solidify after we were recording for a few years. Skye used to refer to me as "Silent But Danley," and while that will always stick to a certain extent, I've tried to become more vocal as time has passed.
28.     Skye one thing I love about your presenting style is your honesty and transparency, particularly in regards to your personal life. I feel that we really get to know you. How are things going for you now? 
SP – Things are going better. Divorce is terrible and I wouldn't wish it on anybody, but it often is for the best.  I think that is the case here.
29.    Okay Steve I have one final question for you. Skye often mentions that you are a bachelor. Is this true? I'm sure our female readers are keen to know if the dashing and daring Steve Danley is on the market.
SD – When Skye and I first started the podcast I was indeed a bachelor, but I have been in a solid relationship with my wonderful (and patient) girlfriend for two years. It's really funny, as it was actually mentioning the podcast that broke the news to her that I was not only a Star Wars fan, but a collector as well. She's incredibly supportive and has even made a brief "appearance" on the show! I couldn't be a luckier guy.
30.     Skye, your last question. I did some internet stalking of you and I found that you are highly rated by your students on rateyourprofessor.com. The most common compliment was that you made your classes interesting and funny and being a regular listener of your podcast I wholeheartedly agree. What is most interesting though is that you received a 'chilli' for 'hotness.' Do you consider yourself a bit of hottie?
SP – Well, if you read the actual comments about my hotness, you will see that it was a particularly amorous male student who vocalized his wish for me to have a "gay clone."   I definitely do well with men. Unfortunately, I have never been attracted to one.  All I can say is that everyone should always click "hot" no matter what they think of their teacher's physical attractiveness. It is a hard job and we all like to imagine that we are Indiana Jones.
Well thanks so much for the time and thanks for continuing to entertain and educate us all with the podcast. Drop me a line if you are ever in The Netherlands and want to catch up for a beer. Before I sign off, I've got to post another pic of Digby. This time with an ESB frisbee! So California of him….