I'm thrilled as usual to present the sixteenth episode of our collector snapshot, where a vintage collector answers 10 short questions. The same questions will be given to every collector appearing in this segment.
This round's victim is 37 year old Mexican collector Cesar Alejandro V. Jacquez, known on Rebelscum as "Chewvazquez." He was born in Juarez City, the famous Mexican border city near El Paso, Texas but now resides within the Texas-Mexican border in a small town called Zapata in Texas and in Nuevo Laredo, Mexico. Cesar tells me that he has lived in 17 different places for the past 12 years due to school, work and "just because." He always finds it difficult to respond when people ask where he is actually from!
Not only is Cesar an accomplished collector but he is also successful in his personal, academic and professional life. He has a PhD in Philosophy, a major in universal literature and is currently working as an interpreter in classified operations offshore.
VSWC: Cesar on Force Friday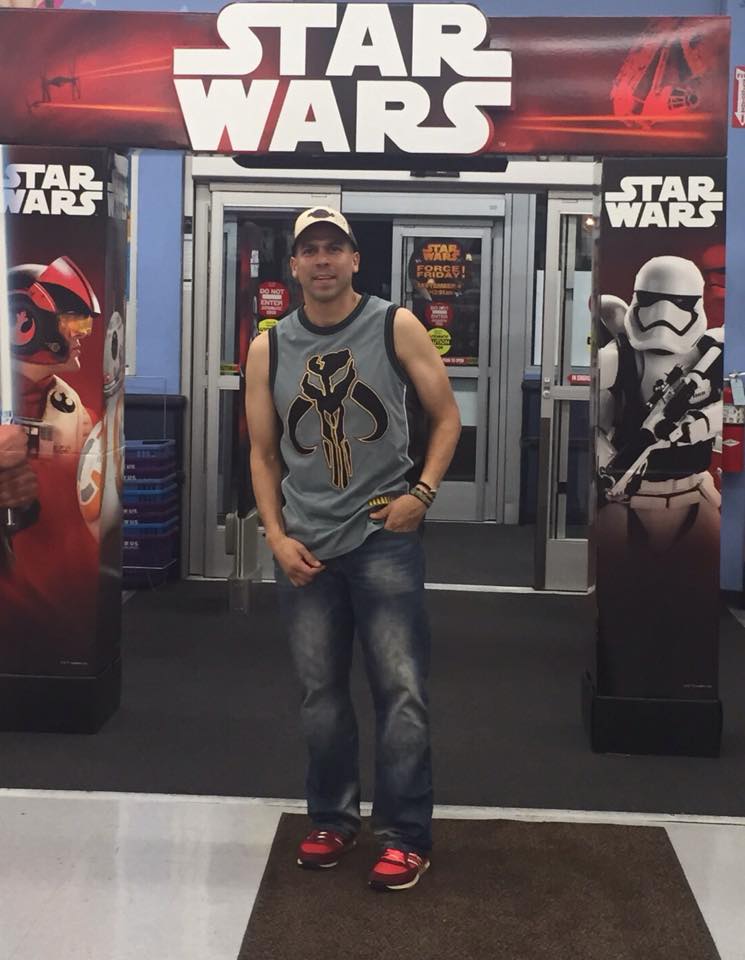 VSWC: He does love Star Wars but back in the days Cesar was also a huge MOTU fan! 
 To the questions!
1. How long have you been collecting?
I've been seriously collecting for the last 16 years. It all started in in a stop I made in a department store during one of my trips through The States in some town up in the mountains of Colorado. I was on my way to the snacks section and suddenly ran into a full shelf covered with POTF2 (leftover figures I believe) and thought it could be cool to have a Vader figure standing next to my T.V. in the living room or sitting somewhere around my bedroom. I did some collecting before then while living in Tampico, Mexico, gathering snack promotional figurines and ships dispensed in chip bags and cookie boxes. I also used to ask for any Star Wars store header about to be thrown away once the publicity was over. I still have a few of these at home looking just as if they had been been freshly removed from the top of the shelves.
I´ve come down a bit with the collecting habit, yet I keep my eyes out for any foreign Fetts or rarities (if the price is right), pre-production items or vintage SW store displays. I am just a few foreign Fetts away from completing a vintage carded and boxed Boba Fett collection as such; including vehicles, diecast and 13s. Until recently, I was kind of obsessed with the idea of getting them all at some point or at least to get one or two more but everything changed a few days ago when I walked into a cafe with my wife and some friends and there was this sign hanging on one of the walls that reads: "Never let the things you want make you forget the things you have." I took that as a sign LOL.
I also collect key characters and have incomplete runs of 12, 21 backs, a few Tri-Logos, Harberts and Meccanos. The Jawa is another character with that very tiny special touch that I love having.
I like Star Wars LEGOs A LOT! But mostly any set related to the original trilogy. I like Hot Toys and Sideshows figures also, Movie Props. I have several Fett errors, variants, convention exclusives and mock ups all the way from POTF2 to the Black Series line. Besides Star Wars, I also collect autographed items by Sci Fi celebrities starting with figures and any type of memorabilia. Marvel Legends, MOTU, Transformers, Alien, Star Trek, posters, watches, movie related items, etc. I will remain conservative with the interview so I am presenting only some of my favorites vintage Fetts here.
VSWC: Here's some of Cesar's mind-blowing collection. Did someone say Boba?
Boba Fett 21 Back- A, B and C (not in precise order)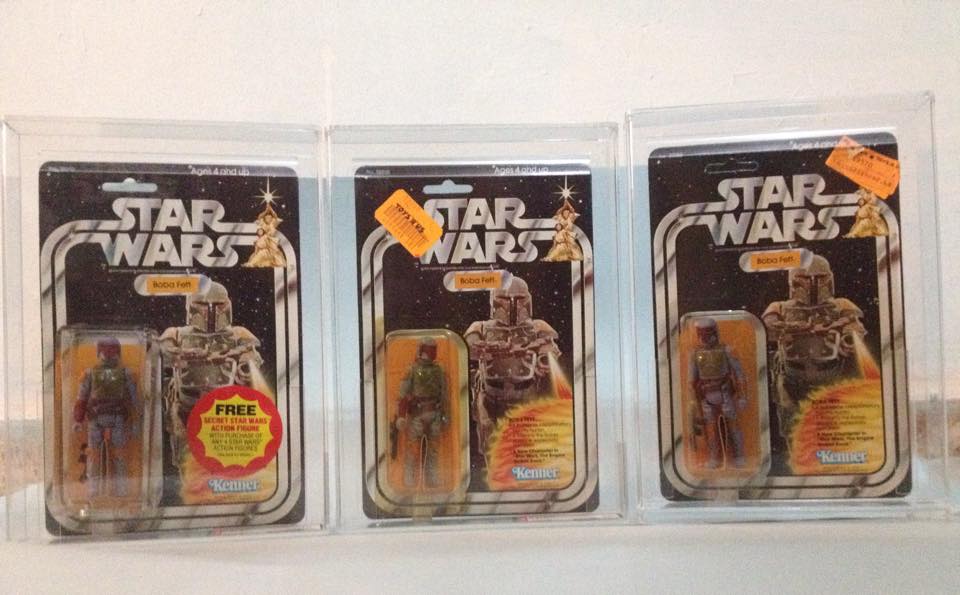 Boba Fett Palitoy 41-C, Speeder Bike Collection, Tri-Logo / Palitoy, and Droids unpainted right leg error.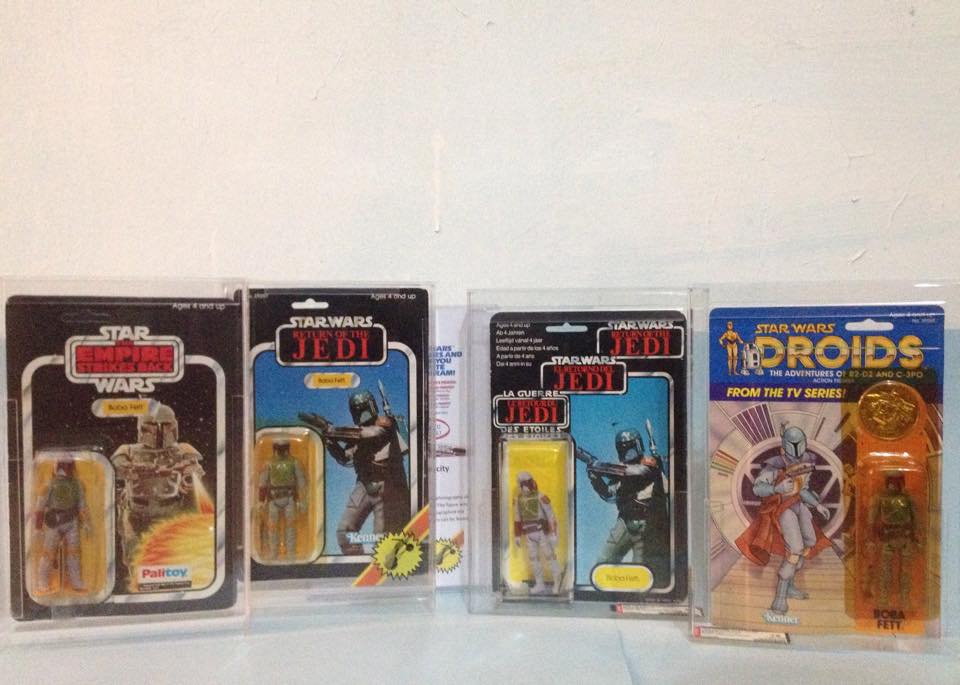 Canadian Run – Boba Fett ROTJ 77 back, transition (only two known to exist), 41 back B and 21 Back.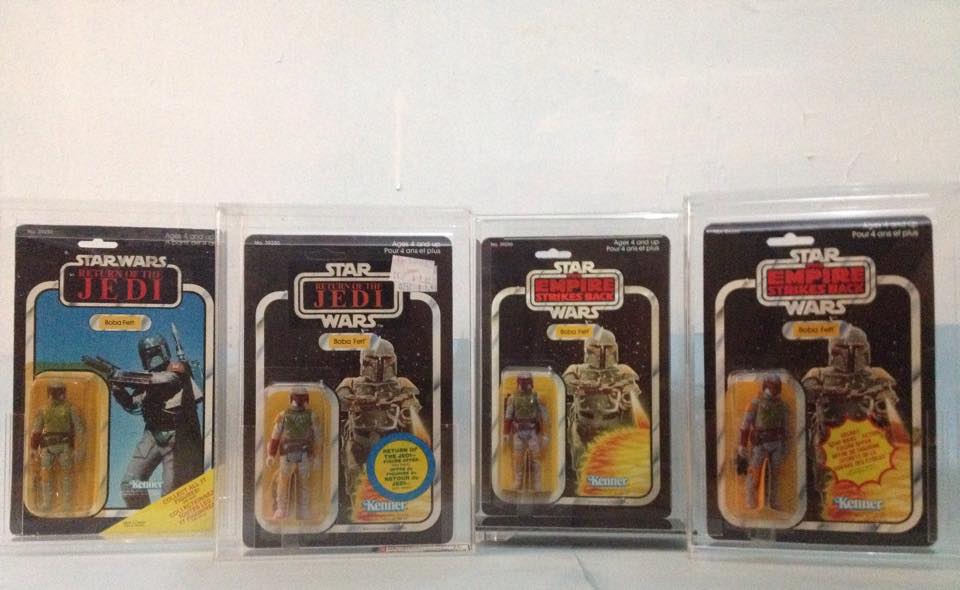 Revenge Boba Fett Proof Card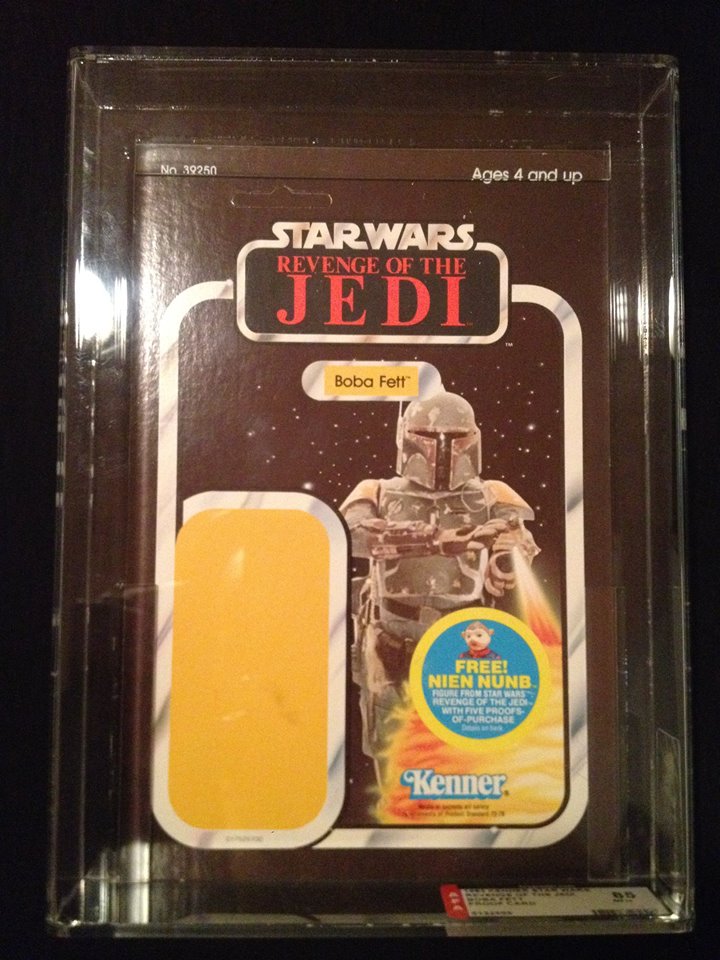 Cesar proudly displaying this absolute beauty. Nice t-shirt!!!!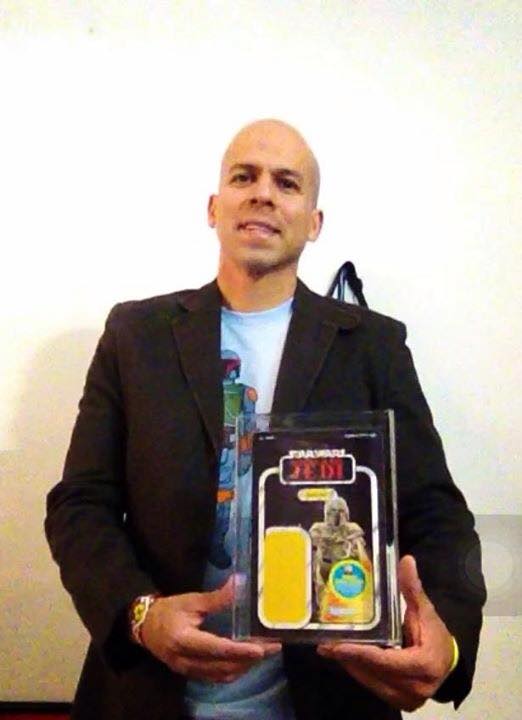 \
Pre-production photography taken on set. This photo was distributed to toy and book companies as a reference for merchandise production. Cesar tells me that he assumes Fett was not famous enough at the time so the guys at Lucas Films chose to highlight the jet-pack (as shown in the text written on the back of the photo). There is a Lucas Films stamp on the bottom right/back. The two black lines on the front of the photo were commonly used as watermarks today for copyright purposes.
Well, I know some "diehard collectors" will hate me for saying this but I found the new Sphero BB8 to be the coolest Star Wars toy ever made throughout the entire Star Wars toy history (kidding you not I am!) I hope EVII does not make me hate it at the end LOL.
VSWC: Cesar declaring his love for BB8
VSWC: The whole family can't get enough of BB8!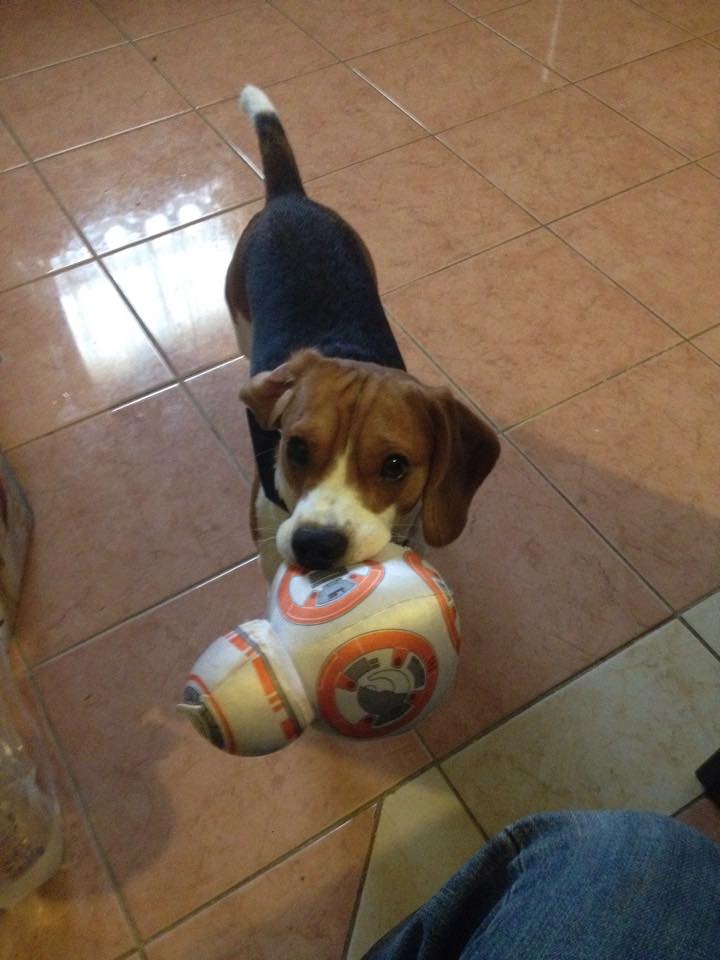 4. What collectors inspire you?
My Dad (R.I.P.) He used to collect military antiques, diecast vehicles and vinyl records from time to time. I was constantly curious as a kid wondering what kind of motivation was behind his passion for buying things that he was just going to put away in displays without ever touching them or playing with them but well, happily enough that question has been FULLY answered now. I had the opportunity to meet with Stéphane Faucourt last year in Paris. It was a fun experience. We spent an entire day talking Star Wars, eating, talking Star Wars, drinking, talking Star Wars, eating again, talking Star Wars and so on… Most of the things he owns are jaw dropping items starting with that full set of square card Meccanos. His Tri-logo rarities are also very impressive and last but not least, his French Fetts. I hold a lot of respect for him as a person and I´m grateful to see all his contributions to the collecting community here and there.
Check out our earlier review of Stephane's awesome book:
VSWC: Cesar and Stephane hanging out in Paris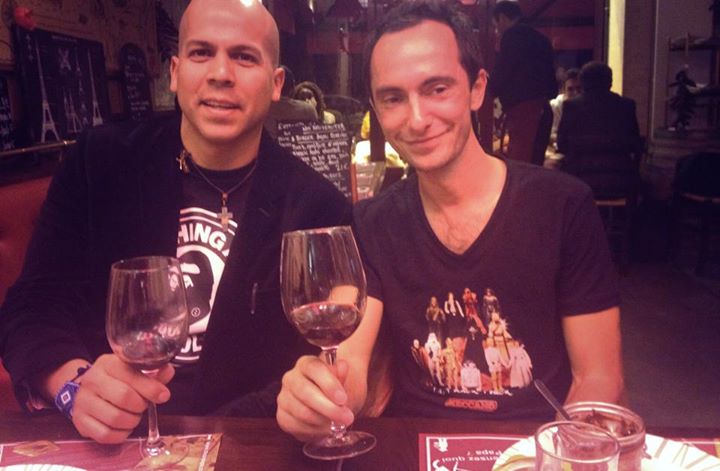 I also hold admiration for guys who I have not personally met yet like Ron Salvatore, his contributions to the hobby are priceless too and he seems to be a very humble and down to earth guy. I like Bill McBride´s endless Vader collection (VSWC: check our feature interview with Bill here – http://vintagestarwarscollectors.com/collector-interview-2-bill-mcbride-dark-lord-of-the-sith/), I wish someday my Boba Fett collection looks like his Vader vault (quit dreaming I know). I have met a lot of great collectors and fans along the way in conventions here in Mexico and in the States. Here in Mexico, Luis Villagomez is another guy I haven´t met but for what I´ve seen his attitude towards the collecting community is always cool and reserved, I respect that besides his collection is always a treat to watch. Collector Alonso Vilches is another dude with impressive stuff, his poster collection is one of the coolest Star Wars collection worth seeing in this country (not everything has to be toys) if I am not mistaking, he owes me a tour through his poster valley to see them all someday. Diehard fans like Armando Barrera in Mexico City and Rodolfo Rodriguez from Monterrey who I recently met are two other guys I like a lot within the Star wars community in this country.
5. What is your most embarrassing moment as a collector?
Hmmmm difficult to answer this question. Nothing pops out of my head as an embarrassing moment to this point but sure we all have some. in the end, no-one knows everything and there is so much yet to be discovered in the hobby.
6. What is your favorite Star Wars film?
Probably A New Hope; I love EV and VI of course (I´m not going any further) but even when the scripts for the sequels were already in place, it was the success of ANH which allowed the other two films to be what they are now. There was not much variety in ANH as there is in its sequels but yet again, it was the success of ANH that allowed: cool gangsters, bounty hunters, a city in the clouds, giant walking dogs and flying motorcycles to make the films even more fun for an audience already attracted to the films thanks to ANH. Besides all the sweet and cutting edge special effects, the magic of the music in the film is something worth mentioning and to at least give half of the credit for its success.
7. What would you change about the collecting community?
Well, although the interactions in the groups (VSWC: Facebook groups) seem to go along just fine, there are a few things I believe that need to be changed and I would like to start with intolerance. Some people find collecting as a competition instead of a fun habit we all love sharing. There is no collection better than any other; everyone loves to death what they own because of their passion for the saga. I also think we need to grow stronger as a community, especially now that the easy access to new technologies has increased the order things are being faked. The number of people with no scruples attempting to rip off the not so experienced collectors has dramatically increased in the past few years. This is something we need to shield against as a group.
8. Forums or Facebook groups?
I like both but I must admit I go onto FB more frequently now.
9. What Star Wars character do you most resemble?
Well… I must say Dengar If I may step off from the films and after reading "Tales of the Bounty Hunters" by Bantam Books. His story was really cool and mirroring to me in the books.
10. Is there one thing that collectors may not know about you?
I like poetry, painting, independent films, art, traveling, Jazz and playing the sax. I am against animal cruelty of any kind. It is funny to see how some people who do not share our love for Star Wars tag us as geeks or nerds thinking we have no other passions or habits in life besides this.
VSWC: Thank you so much for sharing your passions with us Cesar! I can't agree more with so many of your thoughts on the hobby. Although remind to never introduce you to my wife. You're handsome, friendly, you have a doctorate in Philosophy and you play the saxophone. Not to mention your great Fett focus! How the bloody hell can I compete with that!!!!!!