Hi guys,
I'm very happy to present yet another guest blogger onto VSWC: my friend Mete Akin (aka 'Turkdlit' on the forums); well-known in the collecting world for his awesome Uzay collection and for his love of bootlegs and prototypes.
Mete has written a set of excellent guidelines to buying responsibly in today's market; an article that hopefully will not only encourage collectors to stay honest and respectful but also to get the most out of their vintage SW buying and selling experiences. I'm honoured that Mete chose to publish this article exclusively on VSWC blog.
Mete was actually the very first participant in the blog's 'collector snapshot' segment so it is quite fitting. Rather than re-introduce the author, check out his quick-fire interview below:
If you like bootlegs, follow the link to Mete's great website focussing on Uzays:
One thing that is obvious about Mete is that he highly values ethics, dignity and respect in collecting; particularly when he comes to collector interactions in the marketplace. For those who were on Rebelscum, don't forget that it was Mete who hounded Erik (aka 'Bobafett34') a couple of years ago (Erik was infamous for his incredibly poor buying and selling ethics) until he was FINALLY banned from Rebelscum after a string of offences. This thread (started by Rob) was memorable and was the main impetus towards Erik's banning:
Here's the author with his childhood Bluestars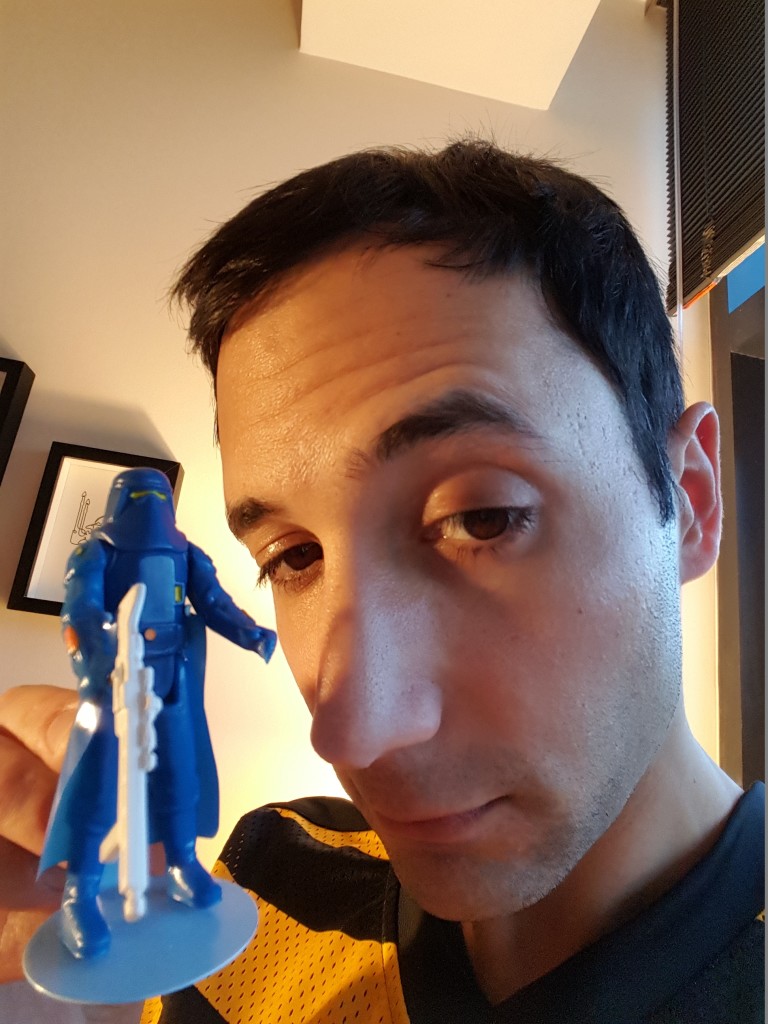 Mete is the perfect person to write an article on responsible trading.
We recommend that his article be read in conjunction with the previous VSWC publications on collecting ethics:
Guest Collector – Ross Barr and the ethics of flipping
Guest collector – Ian Cowley: The Hazards of Reproductions on Vintage Collecting
Ethics and business – are they reconcilable?
Just don't buy it! How you can deflate the vintage Star Wars market
So here it is….. Enjoy!
RESPONSIBLE AND SOUND BUYING TECHNIQUES or HOW TO GET PASSAGE INTO ALDERAAN
With the recent introduction of thousands of new vintage Star Wars collectors, we've seen a huge increase in the number of transactions on both the vintage forums and in the Facebook groups. Not only has the volume of sales increased, but the value of these transactions has increased dramatically. For better or worse, we sometimes see the same item change hands rapidly, and often times at increasing cost with each exchange.
This has also led to an uptake in the number of "faux" collectors (not to be confused with "faux-cus" collectors). These are transient beings in the vintage world. As Phidias Barrios recently said about "faux" collectors – "they're short timers that leave a destructive wake of inflated price bubbles that the collecting community has to deal with once they exit the hobby." I couldn't agree more.
It is no surprise then that many collectors, particularly newer ones, inquire what a fair market value is on something they are interested in. How does one know what fair market value is when the price of something jumps 50% from where it was just a few weeks ago? What if there are no recent sales of a particular item to gauge modern values?
There is no easy answer. Given current prices, today's vintage SW market is new territory for everyone, and opinions on value are purely a speculative at times. There is one factor though which can help buyers make good decisions when completing a transaction – sound negotiating techniques. A good negotiator will work within budget limits, follow a few simple guidelines, and in the end the true value of an item becomes somewhat a moot point. We all know that euphoric feeling of getting a much needed piece at a good/fair price. The secondary, and perhaps more significant benefit, is that it helps keep the market in check.
Here are some observations I've made over the years as a buyer.
Disclaimer, these are just my opinions. I am by no means a dealer, I am a collector. My experience comes from spending countless summers in Turkey's Bazaars, markets, and other areas where sellers view you as prey.
Step one – THINK
We all know the feeling of seeing something we like pop up for sale. Particularly on Facebook, you feel like you may have only 30 seconds to make a decision and pull the trigger on something that you want. This is where I think the majority of cases of buyer's regret and overpaying comes from. Rash and poorly calculated decisions by a buyer can often lead to them backing out, leaving an unhappy seller and an over-inflated perception of market value.
Think for a moment how badly you want the piece. Think about what you can afford. Think about what you may think a fair price is….then take a moment to search the forums and eBay for old prices. Not only will you have reassurance that you're not getting hosed, but you also avoid the disservice of stringing the seller along on a deal you may not second thoughts about later.
Be honest with yourself
This has served me very well when determining how much I want to spend. Ask yourself what your true intentions are if the item was to become your own. Is it going to be the centerpiece of your main focus for all of eternity? Or is it simply a well-priced piece that you will probably sell three months down the line to make a few bucks? If it's the former, then negotiating should be the last thing on your mind, and you should be jumping on it with little thought. But if it's just a good deal, or something you feel lukewarm about, then throwing out lower offers to see if the seller bites makes much more sense. Always consider that a piece you don't care much for could be someone else's grail – so don't be a douche and snatch up everything that is just a "good price". This contributes heavily to market inflation and leaves your collecting brothers disappointed.
Don't be a smarty pants      
Acting like you're the end-all be-all expert for a particular item you're interested in has several detrimental effects:
First and most obviously – it makes you look conceited. Unless you're Bill McBride or Joe Yglesias, there will always be someone out there more knowledgeable than you in a certain area of the hobby. Don't cite AFA population reports or talk down someone else's items beyond physical flaws. You should assume the seller has done their homework, and suggesting otherwise by offering up coercive information will be more likely to irritate than convince; and
Secondly, humans are much less likely to take advantage of someone who appears to be "inferior" or in doubt. Don't get into a pissing match with your seller by trying to convince them you know better. People appreciate humility – use it to your advantage.
Ask specifics
Knowing details about condition goes beyond simply assessing the value of an item. Use defects to your advantage. Undisclosed spider veins, small bubble dents etc. may prove to be valuable ammunition for when you actually start negotiating on price. Obviously, you don't want to talk the piece down too much and insult the seller; but invariably when they start listing the merits of the piece, you will at least have some negatives to counter and make a case for a better price.
Be friendly
How many of you have had a high-end piece for sale and a potential buyer sends you an offer – and nothing but the offer. The message simply consists of a dollar amount with a question mark. I find this is extremely irritating. If you want to buy something that is valuable, special and coveted, don't dehumanize the process by making it a cold transaction made of numbers. I personally gravitate my sales to those who are genuinely respectful.
The Buyer's Golden Rule – You can always walk away
The buyer's golden rule was first introduced to me by my father when I was seven years old. I was feeling brave enough to negotiate for a backgammon set at the Grand Bazaar in Istanbul. He gave me a small amount of money and it was my goal to get what I wanted with just that amount. Before spending three hours at countless merchants trying to negotiate a reasonable price, he reminded me – you must always be willing to walk away. Buyers have a distinct advantage because they have the power to walk away at any moment. The moment you forget about this, or if you're dealing with a true grail item that you must have at any cost, is the moment a seller has the upper hand.
Do your research, get the details, set your max willingness to pay, be courteous, and be ready to walk away at any moment. If you appreciate this sequence, you simply cannot lose.
The Seller's Golden Rule – Never ever back out of a deal
I would be remiss if I didn't mention the Seller's Golden Rule – never back out once the handshake is done. Interestingly this is much more applicable to sellers than buyers. We've all been the victim of a buyer backing out of a deal, but there is much less sympathy for sellers who do this. Remember this is a relatively small community….wait, scratch that, a relatively small community which is extremely gossipy. The golden rule of negotiating as a seller is to always honor your deals – the alternative is to miss out on countless dollars in the long run, and be viewed negatively by the community.