Well I finally commissioned a Luke Skywalker Farmboy piece of acrylic on canvas from LA based vintage Star Wars collector and artist Corey Galal. Corey's designs are legendary in vintage Star Wars circles and we've actually previously featured him here on the blog. Check the link to learn more about Corey and to see more great examples of his art.
As I stated in our previous article on Corey, you can ask him to paint a scene from the films or a specific vintage figure cartoon style. He keeps you updated throughout the entire creative process and is happy for the endeavour to be as interactive as you like. Each painting takes him about 10 to 16 hours but with him working a "real job", it can sometimes take about a week or more. It was a hell of a lot of fun dealing with Corey on the piece I commissioned. Contact him on his Facebook page if you'd like him to work something up for you:
Well here it is, an absolute stunning example of Corey's skills mixed with our love of vintage Star Wars. Yes Luke Farmboy is holding a double telescoping saber….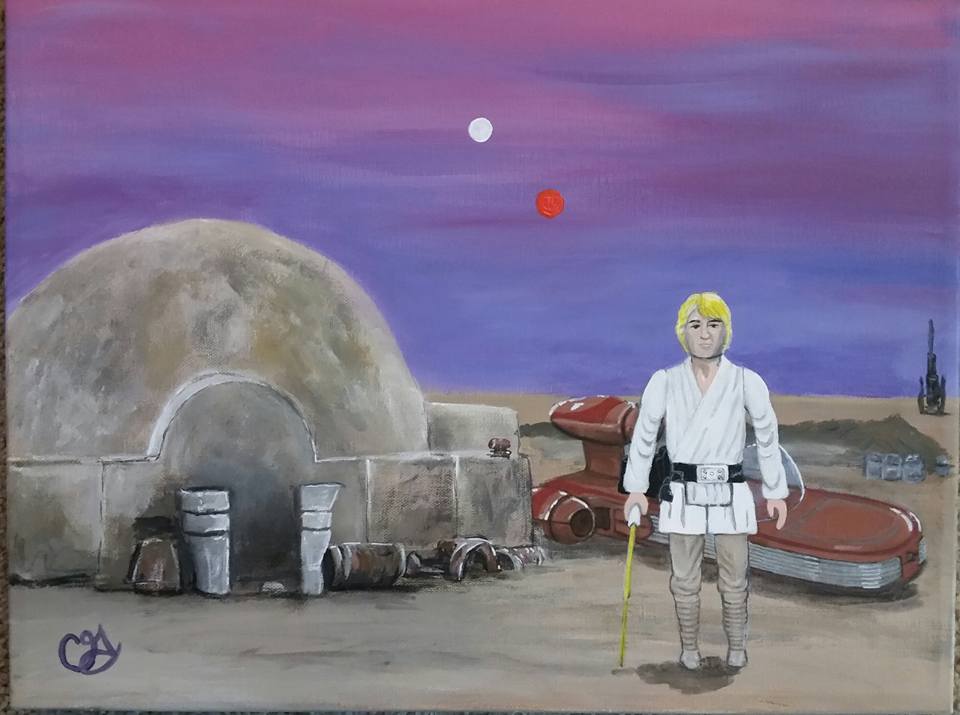 The scene in the painting is very personal for me, not only because my vintage Star Wars focus is Luke but also because the Lars Homestead sunset scene is my favourite moment from the entire Star Wars film universe. My wife is also a Tattooine native and I was lucky enough to visit the Lars Homestead filming location with her family a couple of years ago.
The funny thing is that my wife is not a Star Wars fan so I offered to put this up at work instead of at home. But when she saw the painting in person she insisted I put it up in the living room! Well done Corey and thanks again!