Hi guys,
Just a really quick post to update my non-Facebook audience to an amazing sale yesterday on one of my favourite Facebook groups – the Star Wars 12 Backs and Early Vintage Collectors Group. The guys who run it are some of  my best mates in the hobby and I've previously interviewed the three founding members. Check the interview here:
http://vintagestarwarscollectors.com/collector-interview-5-carl-gary-and-ross-from-star-wars-12-backs-2021-backs-and-early-vintage-collectors-group/
Okay, back to the main story. Yesterday, Jordan Hembrough aka 'The Toy Hunter,' posted three AFA 80 mint on card double telescoping saber original Lukes for U.S. $17,000 each in the Facebook 12 back group. These pieces were snapped up in just a couple of hours.
Here are the three beauties!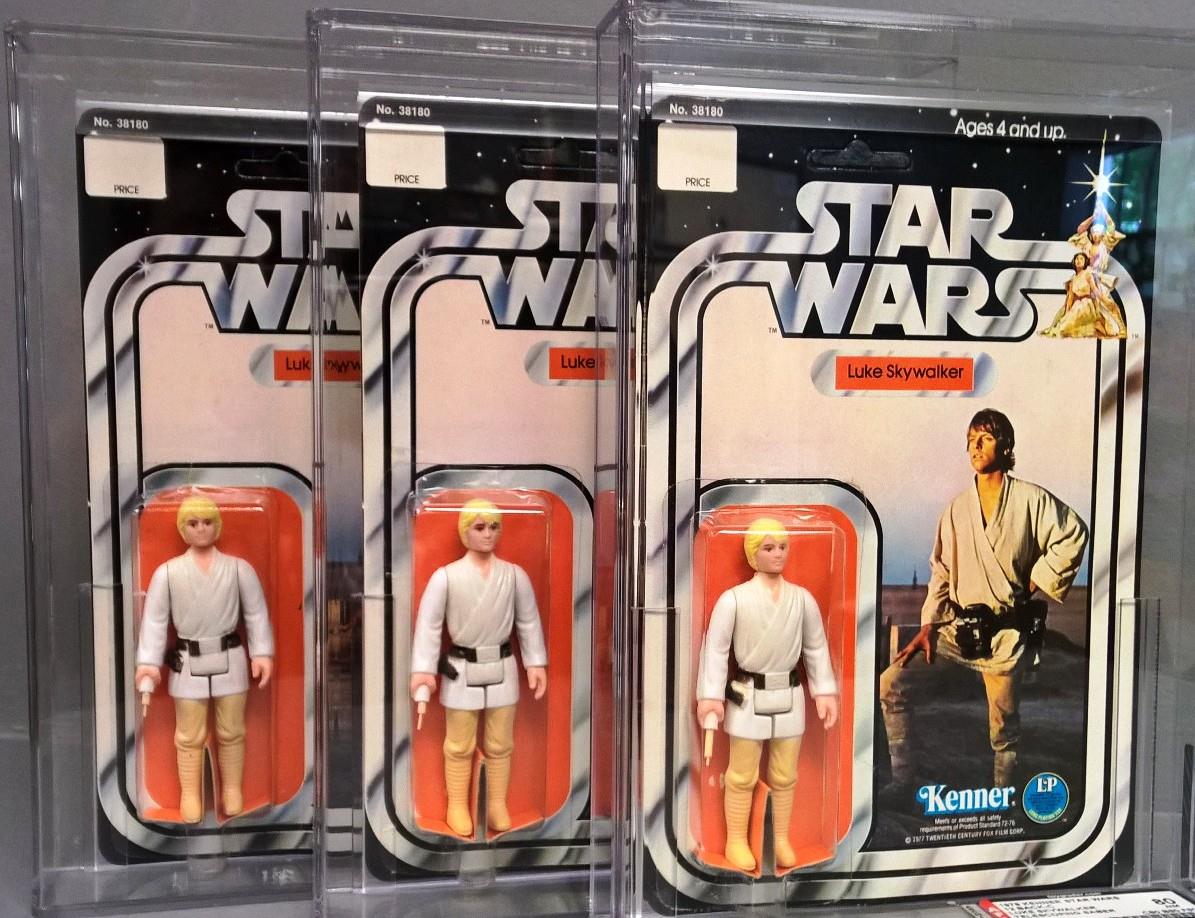 This photo is published on vintagestarwarscollectors.com with the permission of Jordan Hembrough. 
I generally don't flag sales on the blog but these sales were noteworthy for several reasons:
– The sale of three mint on card double telescoping saber original Lukes at the same time was a great sight to behold. I myself am a Luke focus collector so it was fantastic to see that there must still be a few more of these pieces hidden out there in people's closets;
– Now if this sale wasn't mind-blowing enough, it was even more significant that it took place in a Facebook group! I've pretty much been active on the Star War vintage FB groups since close to when the action first started to heat up and I've never witnessed a sale even close to this huge. Not only that, but it wasn't even a secondary sales thread (i.e an eBay or forum thread being shared in the FB groups). What does this say for the future of big ticket item sales?; and
– Jordan chose to sell such a huge score on a Facebook group! I've watched a few seasons of his show and I don't remember him ever mentioning the Facebook groups as one of his selling markets….The fact that such a huge player in the vintage buying/selling game chose to sell on FB is not only a huge nod to the potential that Facebook offers as a trading place but it also pays a massive compliment to the admins of the 12 back group. I very much doubt that Jordan would have chosen this group if it was run by a pack of clowns.
I'd love to hear more about the story behind what Jordan referred to in one of his comments as the 'General Mills find'. He did mention in a subsequent sales thread in the same FB group that this find actually resulted in four MOC DT Lukes but that one was going into his personal collection. He elaborated that the figures from the 'General Mills find' (there were others on top of the DT Lukes) originated from a GM employee who had worked on the Early Bird kits.I might reproduce Jordan's own words about the figures' provenance (well the GM employee's claims at least – to which Jordan claims no responsibility for their veracity) on his sales thread as they are pretty succinct, rather than try to break them down:
"The figure came from a former employee at GM in St. Paul MN, who worked on the Early Bird kits and assembled them for shipping. It was his job, along with others to send the follow up figures to consumers.
When the promotion was over, the factory not only had excessive amounts of Early Bird figure mailers as a whole… but also bagged figures as well.
The story goes: there were a number of figures assembled at the factory to be used for promotional purposes, as well as salesman samples. They were all on 12-Back C cards.
This figure, exhibits unique characteristics found in samples in the past. The figure is backwards in the bubble, and the footer appears to be thinner than a standard footer. The nesting cradle, which was used to adhere the bubble, is larger than one found on a figure of this size.
The figure, is also dark blue in nature, one found in the Early Bird kits."
Now a lot you will be gasping at the price. I mean,17K (U.S) is a hell of a lot of coin to drop on one of life's non-essentials. But I'm not going to get into that, at the end of the day we are all collectors and we should do our best not to judge our fellow collectors about how much they spend on the collectibles we all love so much. Paying too much for an item is a different argument altogether and this was the topic of our previous blog post (below). I'd be a hypocrite not to address this issue.
http://vintagestarwarscollectors.com/just-dont-buy-it-how-you-can-deflate-the-vintage-star-wars-market/
So where do these three MOC DTs fit into the scheme of my previous article? Well it's difficult to say to be honest because my article refers to relatively common collectibles and the items sold by Jordan are not common by any stretch of the imagination. Do I think they were overpriced? Tough one because they don't exactly pop up on the market often so it's hard for me to gauge their value and I haven't done my own research to see what they've sold for in the past.
Thanks for reading!