Welcome all to the nineteenth episode of our collector snapshot, where a vintage collector answers 10 short questions. The same questions will be given to every collector appearing in this segment.
I'm really excited to welcome vintage collector Jared Cope onto the blog. Although Jared lives in London, he is an Australian and is actually the first Aussie I have ever interviewed! Jared will also be presenting a panel at Celebration London so get your butts there! More details below.
Unfortunately Jared wasn't able to take any snapshots of his collection right now but I wanted to get this published before CE3. But visit this interview later for photo updates!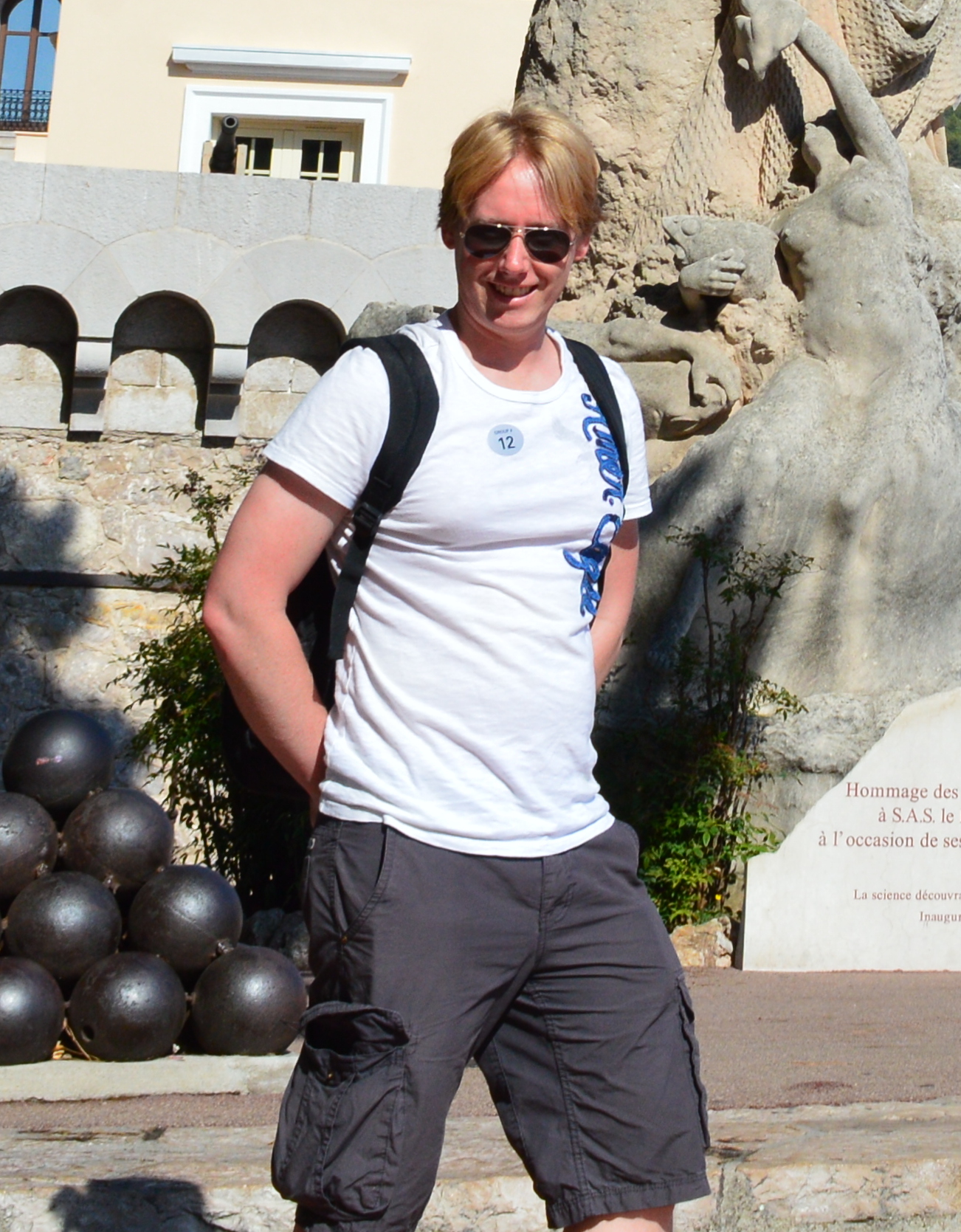 Jared is the brains behind the fantastic 'Star Wars Tracker,' software, which is often featured on the Vintage Rebellion Podcast. Rather than fumble around to explain the software, I'll let Jared  explain it: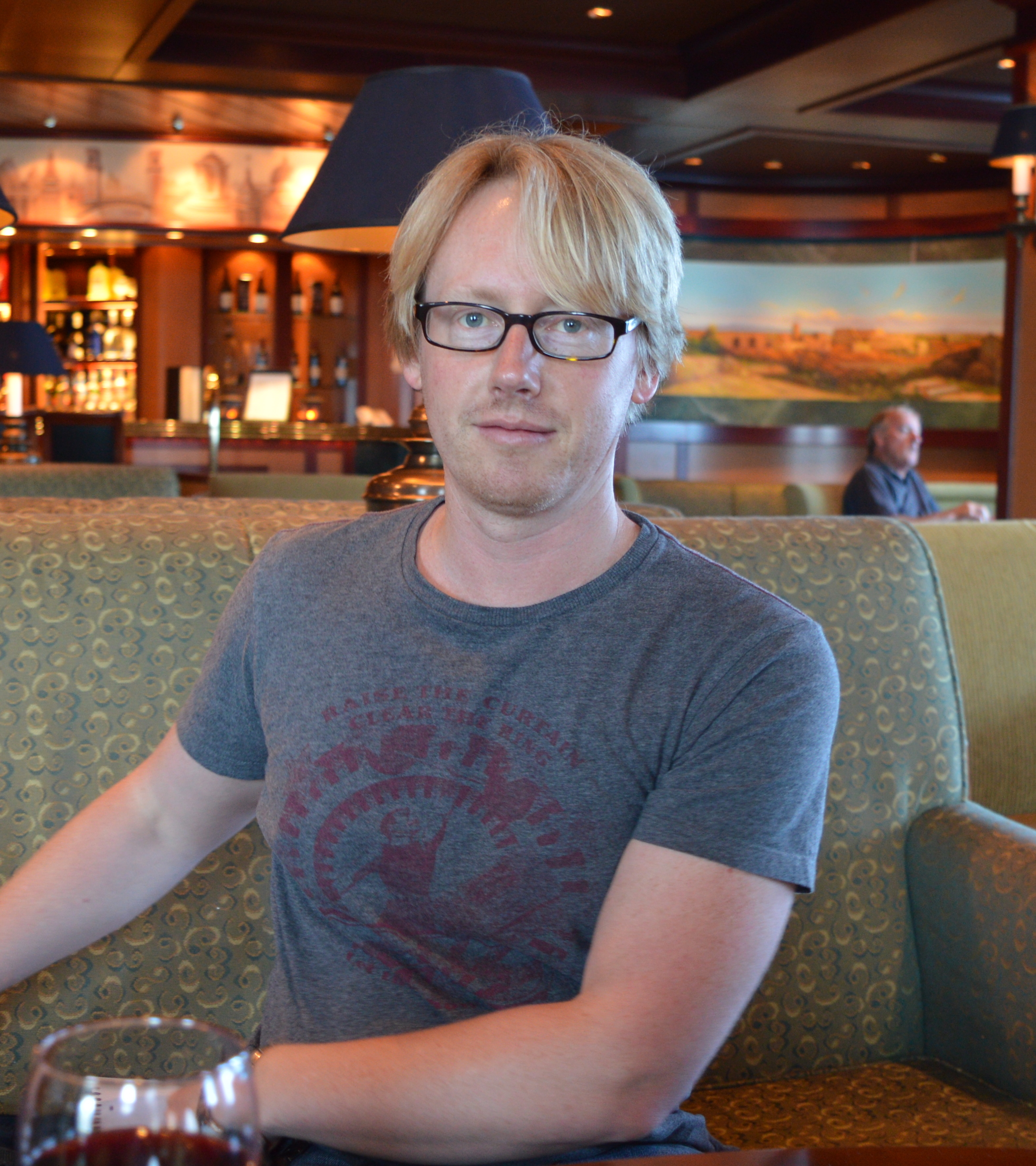 Star Wars Tracker
=================
www.starwarstracker.com is a project I started in 2013. The original idea was to build and maintain a database of POTF coin real-world sold prices with number of sales, sale locations and other enrichment to best collect all 62 with minimal financial outlay. I was aware of various price guides but they always had shortcomings of being U.S centric with dollar prices, were not obvious where the sales took place and had no statistics to back up any claims of relative scarcity of items.
Secondly, I wanted the system to manage my inventory, to allow me to keep track of what I have and to generate a valuation with the click of a button! I pretty soon realized the idea was perfectly suited to loose figures and MOC items too. I finished development of all this in early 2015 and made Star Wars Tracker available to the public around July of 2015. It now contains over 80,000 real world prices (harvested weekly) across loose figures, MOC items, POTF coins, vehicles, playsets and much more!
Having this price database has also allowed me a great honour of being selected to present a panel for Star Wars Celebration 2016 here in London. The title of my panel is "Navigating a bull market for the vintage Star Wars collector". I'll be exploring the pricing trends over the last several years and highlighting some interesting aspects about the market.
And a few screenshots to whet your tracker appetite: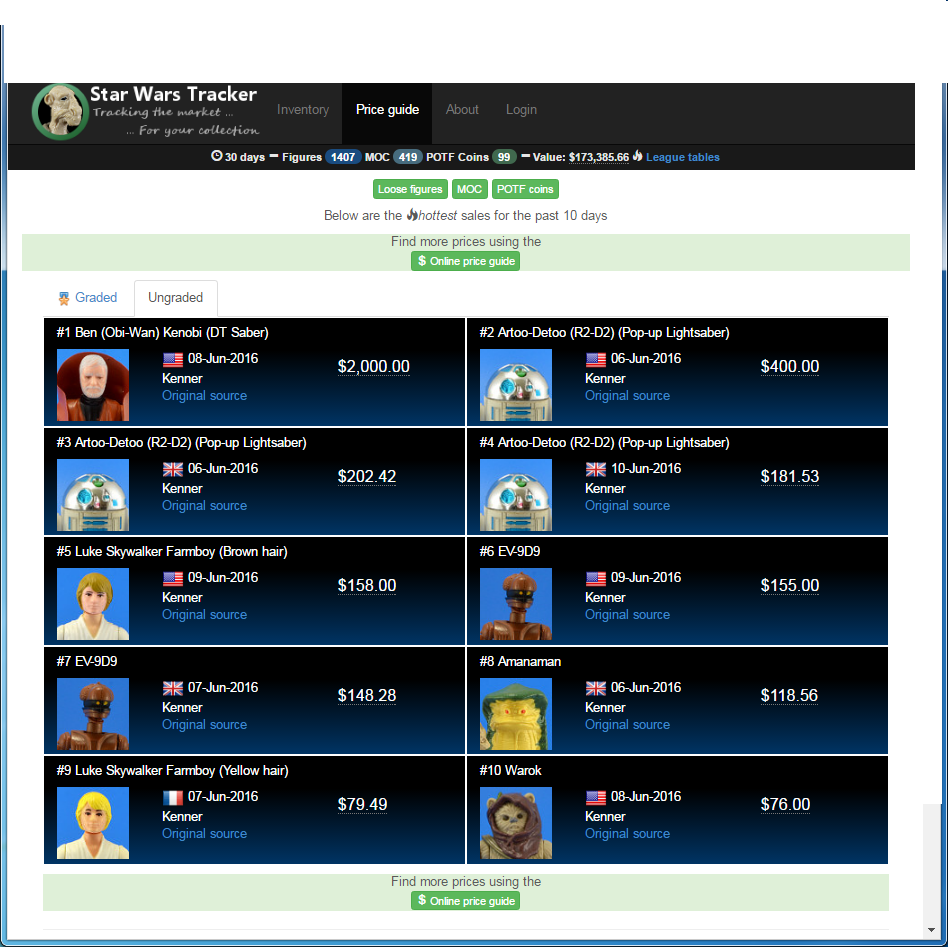 VSWC: Thanks Jared! Here are some links you guys will find interesting:
Star Wars Tracker website/
Star Wars Tracker Facebook Page
Star Wars Tracker Twitter
Celebration London Panel Details
VSWC: Now to the questions!
1. How long have you been collecting
Ever since 1985 when I made the transition from He-man figures. Unfortunately I started with Star Wars at the tail end, but remember getting about 10 figures off the pegs in stores like Big-W and Grace Brothers in Australia. I would describe my collecting as having three seasons. Season one as a kid buying from stores and trading in the playground from '85 – '89. Season two was in the mid 1990s when I realized how awesome these toys were and would go around toy fairs every few months attempting to finish the loose figure run. At this point I also starting collecting MOCs with a view of completing a full 96 figure run. Then after quite a long break I came back into it for season three in 2012. I finished off my MOC run and generally got involved again. Season three is still running …
2. What do you collect?
I mostly collect anything to do with the 3 3/4 inch figure line that would have been aimed at me as a kid back in the day. However, I'm not really interested in the pre-production stuff. So a nice collection of complete loose and MOC figures is my passion. One of the last goals I committed to was finishing a full set of the 62 POTF coins. I completed this a couple of years ago, and so I don't do a lot of buying these days. However, I'm always on the lookout for a bargain or something that adds some nice variety into my collection (an MOC front/back combo I don't have, or a loose figure variant that's visually different like a ledy red cap bib). Come to think of it, now I actually spend most of my time hunting down and collecting vintage item images (especially MOC front/back images) for the Star Wars Tracker image reference database. It's actually quite a fun challenge to identify images I am missing as they come up, make sure they are nicely shot and suitable for use, and then making contact with the owner to seek permission to have a copy. At last count I have over 1200 unique images now. This keeps me busy and engaged with the community — and is easy on the wallet in today's market!
3. What's your grail?
I think it would be the trilogy of double telescoping figures. If I got one (most probably Luke), then I'd be compelled to get the other two but that's a scary financial committment these days for Ben and Darth. I've never seen any of these in the flesh which is probably why they are a grail to me. To have an MOC set of these three … that would be something else. But a part of me thinks that grails are supposed to stay just that — something unfulfilled. Maybe in 20 years or so I can pick them up for a fraction of their cost in todays market.
4. What collectors inspire you?
Collectors that choose a niche of the hobby to become experts in is really inspiring. Whether that be writing a guide focused on all the Bespin Leia variants (VSWC – that was our friend Jay by the way – http://vintagestarwarscollectors.com/collector-snapshot-12-jay-williams/), or the various vintage weapons as described on the Imperial gunnery website. Our hobby is actually so well documented now due to people doing their own research and writing up guides about it. It has added such richness to the hobby, provided depth and opened up so many collecting paths for people to continue with.
5. What is your most embarrassing moment as a collector?
I thought about this one for a while and couldn't really identify a single embarrassing moment. But then I guess I realized that up until recent years, being a collector itself is something I was secretly embarrassed about. I would never offer this up as something for other people to know about me, playing it safe and only reveal I am a vintage collector with the right audience. My wife is a great support for me in this hobby, and encourages me to enjoy it. I think that has helped me to see it differently and with Star Wars so mainstream again now, and everyone having grown older, there is no longer the stigma attached to being a Star Wars Collector.
6. What is your favourite Star Wars film?
I think I would choose Return of the Jedi for the closing scenes with Luke, Vader and the Emperor. That scene as Vader looks from Luke to the Emperor, wrestling with the conflict and then choosing to save Luke … given the scale of the story up to that point, it's probably the most dramatic thing I've ever seen in film and it will stick with me always. That said, I thought The Force Awakens was absolutely epic!
7. What would you change about the collecting community?
If I had God powers, I would erase all aspects of reproduction items and scamming that is now an everyday danger. I really lament having to cross check each item I might be interested in for signs that it's not a genuine vintage item. I won an auction for a couple of loose Luke/Darth telescoping figures back in 2012 with weapons. When they arrived I could immediately tell the sabers were repro (they were the versions where the paint could be scratched off). The listing description was very economical with the truth saying "original figures with weapons". Having them in my collection made me feel sick. Since then I unfortunately have to approach everything as "Guilty until proven innocent." It is a tiring way to proceed in this hobby. But it's better than taking a chance, ending up with something I don't want and having the drama of trying to unwind it with the seller. I really support the movement in the hobby: "Repro: don't buy, don't sell".
8. Forums or Facebook groups?
I have time for both. For interesting topics, I much prefer the forums where people take a bit more time with their responses. It's the kind of thing where you go make a nice coffee and have a purposeful browse for an hour or so. Most of the time you come away having learned something new. But over the last year I have joined a handful of Facebook groups and do participate every now and then. Some are much better than others. I use Facebook groups for a bit of a vintage "snack" if I have a spare five minutes or so.
9. What Star Wars character do you most resemble?
Hmmmm … I'm not sure about who I most resemble. I have dressed up as "Luke Skywalker in Jedi outfit (Green Saber)" at fancy dress parties in the past. My mum made a great fleece brown jedi cloak for it, and I even had a single black glove to give the impression there was a mechanical hand under there from my duel with Vader.
10. Is there one thing that collectors may not know about you?
When I can arrange a time and place for it, I'm actually quite a keen sand-castler! I find it really relaxing to spend a few hours in the sand preparing a "blank slate" and then sculpting something out of it. I like to attempt the fairy-tale kind of towers with spiral staircases and the like. I'd love to have a go at the really huge ones you see in competitions but if I can get something to stay standing a few feet of the ground I'm happy.
VSWC: Well thanks Jared for coming on! I'm sure our readers enjoyed your intelligent and insightful answers as much as we did. I'm pretty sure you are also the only sand-castler we've ever had on! You've got some skills!!!!!