Hello everyone!
I'm proud to announce that last week we finally launched our brand new vintage Star Wars forum – Tantive XI! Your initial thoughts may be – aren't the forums dying? Hasn't Facebook taken over? Aren't there already enough forums and FB groups? Well the simple answer is no, no and no!
If you'd like to join up without reading on, then click this link:
http://www.tantivexi.com/
The forums are struggling but they are not dying. We are adamant that there is still plenty of space in the vintage social networking landscape for new forums or similar ventures. New collectors are joining our hobby every day; our hobby is expanding massively. Not everyone is a fan of Facebook and if you are anything like me then you'll be on all the forums, a million Facebook groups, Gemr, Twitter and even Instagram! I wish I was joking!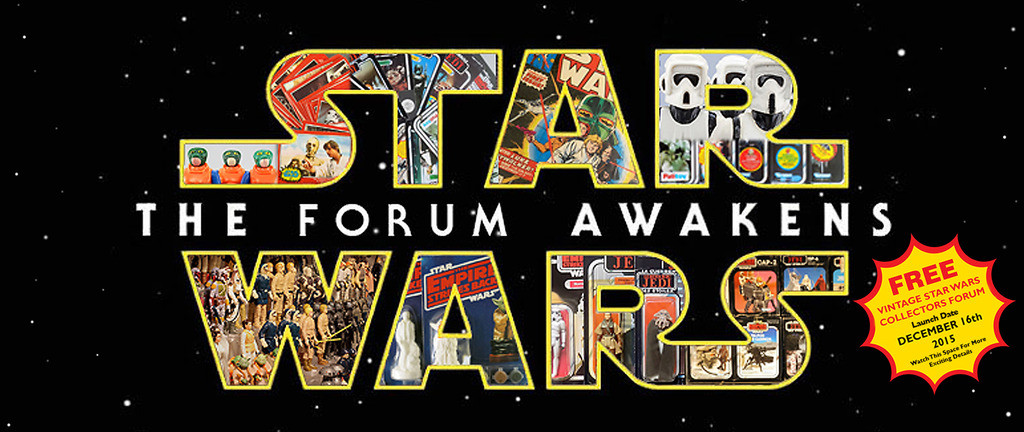 So how did this all come about?
A while back a bunch of us had a vision for a brand new forum, which not only took full advantage of some of the technologies and usability options employed by Facebook but also a place where experienced collectors would find sufficient intellectual stimulation yet newer collectors would not be embarrassed or berated for asking 'stupid' questions.
After many months of hard work, we transformed that vision into a reality and on December 16th we finally went live! So far the feedback from members and special 'previewers' has been extremely positive. We have to emphasize though that the site is a work In progress, and that we are now in a stage heavily dependent on the input of new crew members to progress further. So if you miss a certain aspect of the hobby and would like to see it here, simply tell us and we can make it happen, together with you.
What's our mission?
Our mission is to bring quality contributions to all of the different aspects of our hobby (MOC, MIB, oddballs, loose variants, bootlegs, and many more vintage collectibles) and to stimulate open discussions around the collectibles that we all love so much. Moreover, we hope that our forum will provide a 'A New Hope' in these dark times, within which the fora have lost their impact and previous high traffic due to the increased popularity of Facebook. However we do acknowledge the strength of Facebook and do not oppose it. It has its place in the collecting world and we hope that our platforms can complement each other. Tantive will combine the best of both worlds and serve as a bridge between FB and traditional forum activity. Our Facebook Page will serve as a Bridgehead:
We do not perceive ourselves in opposition to the existing forums or FB groups, we want to work together to bring all collectors the best possible collecting experience. We welcome other forum moderators and FB group admins to join us and you are  of course welcome to advertise your pages and groups on Tantive XI!
Our mission can be read in more detail right here:
Tantive XI – This what we stand for.
How will we bridge the gap between Facebook and the forums?
Tantive XI is supported by a heavily modified platform allowing for modern functionality, which – we hope – will provide a unique and pleasant "look and feel" experience for our crew. Just to give you an idea – right now members  can 'tag' each other in posts, get instant notifications, and attach photos directly from smartphones or PCs via TXI's Tractor Beam. I must say we are blessed to have some mechanics onboard who are absolutely top of the IT game. We are only going to get stronger as they continue to un-weave the hidden technological magic that forums offer.
We have a large team of 12 passionate moderators who will be working ceaselessly to update the forum and to keep things running smoothly. We will also be working closely with our members to improve the forum.
What else do we offer other than a traditional forum place to hang out?
Well this brings us to one of our real strengths. We're in the process of creating an extensive reference database for the community. At the launch of Tantive XI this database already included a basic and advanced COO guide and also a comprehensive figure guide. Check it out yourselves:
We would love to expand the Library with the help of members who will actually be working with us to present their own research and projects on the site; with the aim of developing the community's knowledge and appreciation of vintage Star Wars collecting.
We will also be interviewing members and I'll be reposting all of my interviews from here onto Tantive XI. So stay tuned!
Who is behind Tantive XI?
Our team contains some of the globe's most well-known  and experienced vintage collectors; coming from the UK, the U.S, Canada, Spain, Mexico, Denmark,The Netherlands and Australia.
Other than myself, the team is: Alexander, Chris, Clint, James, Jay, Javier, Kenneth, Marco, Ozio, Patrick and Steve. Click the link below to learn more about us:
I hope you can all join us in our little adventure. And if you can't, well no worries – I'll see you all around on Facebook and the other forums!
Watch this space for details on a competition we are running for our members. First prize is a Burgundy Cape Lili Ledy Squid Head!