Hi guys,
I'm very happy to have Gary Borbidge (aka 'Greedodidntshoot' on Rebelscum) appear on the blog to present his massive Kenner find from early 2014. Gary did actually outline this haul previously on Rebelscum but he was generous enough to update it exclusively for the Vintage Star Wars Collectors blog. A lot of our readers are not on Rebelscum so I'm sure they have not yet had the chance to read the details of Gary's amazing score from a former Kenner employee.
I have to admit I was feeling a little bit emotional after reading Gary's story. What a great story! This to me is what collecting is all about. Gary was obviously excited about the great pieces he had picked up but you can also feel how honoured he was to have had the chance to hang out with someone so intrinsically linked to the history of Star Wars toys. Lovely touch too that Gary's father was a part of this epic journey.
Well enough from me, I'll let Gary take it from here.
2014 Kenner Find by Gary Borbridge
Like most collectors, I've spent countless hours scrolling through vintage Star Wars auctions on eBay. From time to time you score a nice piece at a good price, or stumble upon an auction for something special that seems to go unnoticed by others. This is my story of an eBay originated buy that ultimately lead to the highlight of my collecting career. Some of you may have read my thread on RebelScum explaining this story, but if not – enjoy.
I have been collecting vintage Star Wars on and off since the late 90s and mainly supported my collecting (habit) by buying and selling and keeping a few pieces in-between to build my collection. One day in January of 2014 I was checking out some newly listed auctions on eBay and came across a few auctions for some carded figures that were in average shape.  The seller was actively listing the items, so I sent a message to the seller inquiring what other items he/she was going to have for sale. I received a response that they had a few more carded figures, some loose figures and some 12" figures. I asked if the seller could send me some pictures of the items they had not listed yet and received a response containing a few pictures. Among the items was a vinyl Star wars case that contained an assortment of loose figures. Among the figures were four Blue Snaggletooths…. What??? I thought to myself.  Two of the snags looked to be in excellent condition and the other two looked a bit rough. So I expressed interest and ultimately worked out a deal to buy the case of figures.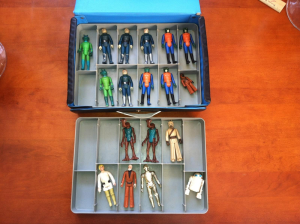 Fast forward a few days to the day when the package arrived in the mail. As I'm going over the figures, I notice that six of them: two Blue Snags, two Walrusmen, a Greedo and a Hammerhead didn't have any copyright stamps. I had no idea at the time, as I had never owned any pre-production pieces and my knowledge in that area of collecting was basically zero, but what they turned out to be were painted first shots. This was confirmed by some very knowledgeable and respected collectors on Rebelscum.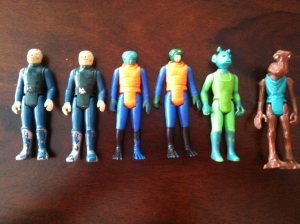 Needless to say, I was ecstatic. I couldn't believe it, this stuff just doesn't happen! Then it hit me, wait….where did the guy get these? These were basically prototypes. You didn't go out to the Kiddie City and buy these back in the day, they had to come from Kenner, from in-house Kenner. So I contacted the seller again and discovered that when he was a kid, his uncle had come to the house one Christmas with a box full of Star Wars toys. I then found out to my amazement that his uncle used to work for Kenner. The communication continued with the seller and he ultimately told me his uncle's name and some limited information about what he was currently doing in life. Chris Georgoulias  (a well known collector and major contributor to theswca.com) confirmed the uncle to be a former Kenner worker. Chris also provided me with some early guidance from his years of experience in tracking down and approaching former Kenner employees, which was a huge help in getting me started on the next phase of this story.
With his uncle's name and some limited info, I hit the internet and started researching. Without much trouble I located an e-mail address and telephone number for the uncle and emailed him explaining my contact with his nephew and expressing interest in his time days at Kenner. Send………The email was away….
I didn't really know what to expect. For the most part, I honestly didn't think I would even get a response. I checked my emails about twenty-five times hoping for a reply. Days went by and nothing. Then one afternoon, there it was – a reply. It was brief, stating that he was sorry that he had not replied sooner. His wife has been hospitalised but he was happy to tell me about Kenner and he promised to write more soon. I thanked him for taking the time to answer me and said I was looking forward to talking with him.
The following day I checked my emails and there was a whole string of emails from him containing several attachments. Pictures. I clicked on the photo attachments and they were all of vintage star wars toys that he explained he had "saved." MOCs, ESB 3-Packs, figure cases, diecast vehicles, baggies, electronic games, loose figures…. The closer I looked, the more excited I became. I could tell there were numerous other pre-production pieces and some very cool production pieces in the lot. I couldn't believe it!
We continued to correspond over the next few weeks, chatting about all kinds of things, including his time at "Kenners" (as he called it). During the weeks that we talked back and forth, he was mostly writing me from his wife's hospital bedside. The recipient of a pair of new lungs, she was fighting through complication after complication. As our communications continued, he told me how much he enjoyed having someone to talk with, someone to take his mind off of the pain that his wife was going through. It felt good to be able to do that for him and I really enjoyed learning about his time working at "Kenners". He was just out of college in 1978 and took a job with Kenner in their Product Integrity Labs; which was responsible for testing toy safety and reliability. He explained his job to me as "playing with toys to make sure there were no safety issues and to determine how reliable they would be under varying conditions." He worked at Kenner until mid-1980 when he left to take another job.
I shared all of the toy pictures and play – by – play with my buddy, Steve Dwyer ('the_dark_artist' on Rebelscum), and we gushed over them for weeks. Steve's encouragement and knowledge with identifying several of the pieces in the lot was invaluable to me and having someone to share the experience with as it was happening was really cool. At times he seemed more excited than I was!
Fast forward several weeks and his wife's recovery was going well and she had progressed enough to come home. We had discussed me purchasing his toys on and off over the weeks that we had been talking and shortly after arriving home with his wife, we came to a deal. The next thing I knew, I was making arrangements to drive out to Ohio. When I told my dad that I was going to be driving out to buy a bunch of Star Wars toys, he offered to be my co-pilot and make the trip with me (that is after he told me I was nuts).  Having my dad with me was awesome. With my job, wife, kids and the thousand other obligations in life, I rarely get to spend one on one time with him. It was so fitting to have him along with me as he was the person that introduced me to Star Wars a long time ago in a childhood far far away… The long ride from Philadelphia to rural northern Ohio gave us a lot of time to spend together.
So on Sunday March 16, 2014 Dad and I were on our way. When we finally arrived at our destination, we were greeted at the door by a tiny woman with a brand new set of lungs. A very sweet woman who welcomed us in and asked how we liked our steak cooked. We were then directed out to a horse barn where we met the man that I had been corresponding with for weeks. We shook hands, I met the horses and we returned to the house for a delicious home cooked steak dinner, followed by a spread of Kenner goodness covering the dining room table.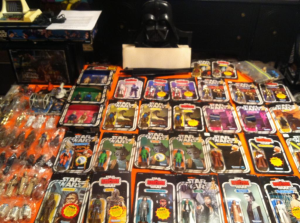 Some of the highlights of the purchase include 10 figural first shots, two die cast first shots, several carded and loose marked product integrity test samples, several engineering pilots (EPs), 40 bagged figures, three series one ESB 3-packs and 28 carded figures.
This photo is of the 10 first shots in the lot:
The items in the second picture are marked test pieces (EPs):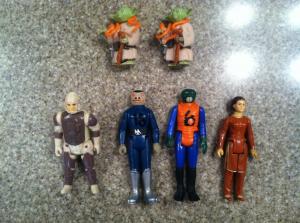 The final photos are of Boba Fett, a transition piece from the rocket firing mechanism to the standard Fett. I think the Fett is one of the coolest pieces in the whole find. It represents the transition of one of the most iconic pieces in the vintage Star Wars toy.
We spent the rest of the evening talking about "Kenners" over pints of Guinness and games of pool in his basement. It was like hanging out with an old friend. Truly Amazing!
This is a picture of my new friend and I and the toys that I purchased from him. The entire experience was unreal, a once in a collecting-lifetime thing.