Welcome guys to the second episode of Collector Limelight. Every month we will present a focus limelight; following the Kenner list of produced figures. Please check this out if you missed the first episode on Luke Skywalker and Aaron Jones:
Collector limelight #1 – Aaron Jones and Luke Skywalker (Farmboy)
I've mentioned previously that I will not always choose the largest and most complete collections to limelight and would prefer to mix it up between veteran collectors and newer members to the SW vintage universe, while the key parameters for being chosen are that you have a relatively large collection that is a mix of MOCs and loose figures. Of course pre-production items are welcome!
I'm happy to present Bruce White. Bruce is 44 years old and has been working as a  tattoo artist for 15 years and has a "side job/hobby" as painter, primarily working on black velvet. His website can be seen at velvetgeek.com
I should mention too that (well at least according to Facebook!) that it's Bruce's birthday today. HAPPY BIRTHDAY BRUCE!!!!!
Let's find out a little bit about Bruce before we see his collection. Bruce saw Star Wars in 1978, and became a huge fan. He was already a sci-fi fan at the time, watching Star Trek re-runs with his dad, so the original Star Wars blew his mind. The first Kenner figure he received was Princess Leia, followed soon by a few other figures. Christmas of 1978 was awesome for Bruce… He received the Death Star play set, the X wing, and the TIE fighter as well as more figures.
Fast forward to the mid 1990s, when Bruce retrieved his childhood toy collection from his parent's house. Luckily, his mom never throws anything away, so all his toys were still there. He set up his collection in his apartment and started attending collectible toy shows (this was pre-eBay). At first, he wanted everything vintage Star Wars. Everything! Eventually, he learned that this was an impossible task, and he saw that a pattern in his collecting was developing. He started buying more items related to Princess Leia than any other character. He was already a "focus collector" without even realizing it.
After he joined the Rebelscum forums, he saw other collectors that were doing just that…focusing on one character, or for some, just one figure in particular. So, around 2007, he mainly started only buying vintage Leia collectibles and carded figures. Eventually, he sold all his other carded characters and boxed items to fund his habit, keeping only the things he really liked. And of course he kept all of his childhood collection.
Bruce actually restored his childhood Leia figure a couple of years ago. Her torso was very yellow, and her facial features were worn. Instead of doing the "peroxide whitening" method, he just painted her torso with white acrylic paint, and repainted her facial features. He also purchased an original vintage cape, since hers was long gone. She now stands proudly with his other figures on the action display stand.    
I'm pretty sure most of you have seen shots of some of Bruce's collection but we present it here in its full glory.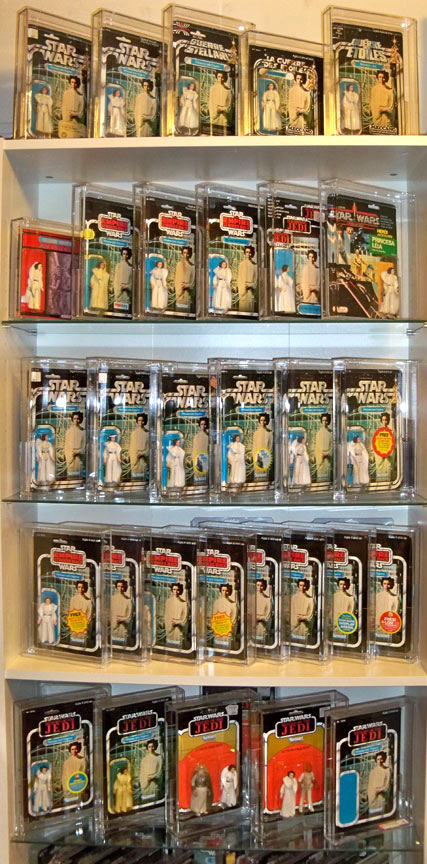 Row 1 (from top to bottom): Takara 12 back, Canadian 20 back, Harbert 12 back, Meccano 20 back, Meccano 12 back

Row2: Hungarian bootleg, Palitoy 41 back (reseal), Canadian 31 back, German 45 back, Trilogo, Glasslite

Row3: Kenner 12C, 20A, 20G, 20H, 21B, 21C

Row4: Kenner 
21G, 31B, 32A, 41A, 41C, 41E, 45A, 47A

Row5: Kenner 48D, 77A, Kaybee 2 pack (w/Squidhead), Kaybee 2 Pack (w/Ackbar), 65A proof card

Bootlegs: Polish unarticulated white and blue bootlegs, 3rd gen bootleg (w/cape)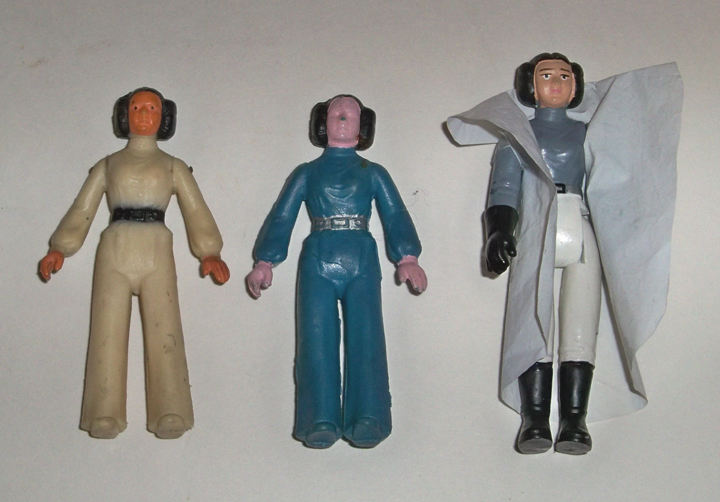 This is my favourite pic, Bruce's original childhood figure before and after restoration.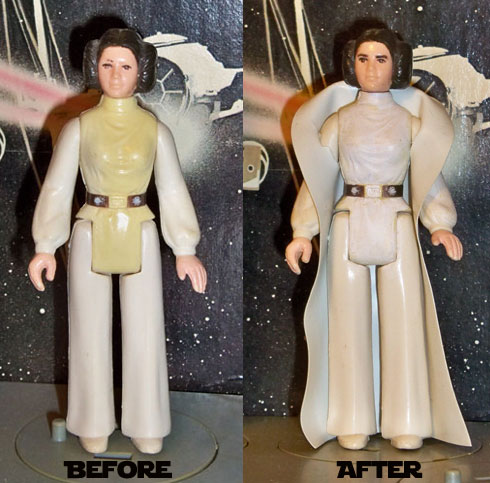 And here's Bruce holding his newly acquired 12 back "B" proof card!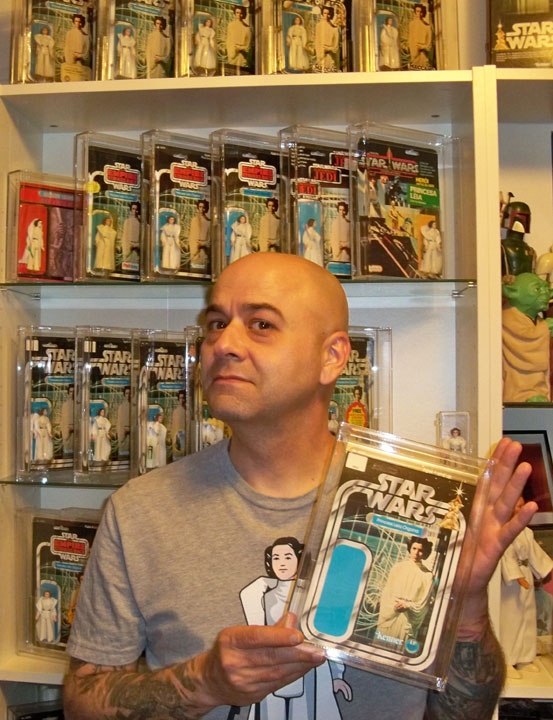 Well that's that. Amazing collection right? Thank Bruce for sharing your wonderful collection with my readers and it has been a pleasure dealing with you. Thanks also to the readers for continuing to read the blog!
Christian